BLUE LAGOON ISLAND, BAHAMAS
Dolphin Encounters on Blue Lagoon Island recently welcomed two new cute sea lion pups into its marine mammal family. Born on the same day, sea lion mom Xena gave birth to a female pup and 21-hours later, sea lion mom PJ, gave birth to a male pup.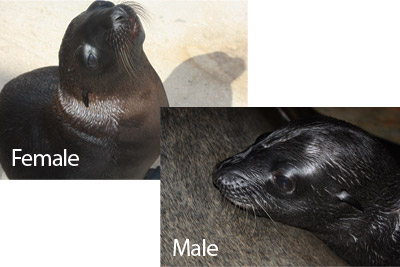 "It made for a very exciting day to have two sea lions in labour and two pups born on the same day," said Kim Terrell, marine mammal director.  "PJ and Xena are both amazing mothers to their pups and they are all healthy and thriving."
The new additions are the 5th and 6th baby sea lions to be born at Dolphin Encounters since the park acquired all six of its sea lions in September 2006, after they were displaced from their home at the Marine Life Oceanarium in Gulfport, Miss., due to the devastation caused by Hurricane Katrina.
At birth, both pups were born full term and the female weighed 17.2 pounds and the male weighed 19.6 pounds. The average birth weight of a single pup is 18 pounds for males and 14 pounds for females.
"Healthy marine mammal births are a testament to the care the animals receive and the environment in which they live" adds Terrell. "Our habitat is all-natural and all of our animals thrive in this environment. The sea lion pups will remain with their moms nursing and learning to swim in our free-flow maternity pool. They will join the other sea lions in the habitat once they are weaned."
Since 1989, Dolphin Encounters, located on idyllic Blue Lagoon Island just three miles off Nassau, has offered visitors from around the world a unique opportunity to interact with friendly marine mammals in an unparalleled all-natural marine habitat.
Home to Atlantic Bottlenose dolphins, including the internationally famous 'Flipper', as well as cute California sea lions, this leading attraction continues to set the standard for marine mammal interactive programs. The company, which is owned and operated by a Bahamian family, offers visitors new, educational and entertaining ways to meet and learn about marine mammals and to experience the best of Bahamian beaches and hospitality.
For more information about Dolphin Encounters or Blue Lagoon Island visitwww.dolphinencounters.com, www.bahamasbluelagoon.com, call 242-363-7150 (general inquiries) or 242-363-1003 (reservations). Fans can join on Facebook as Dolphin Encounters and follow on Twitter at DolphinEncounters.