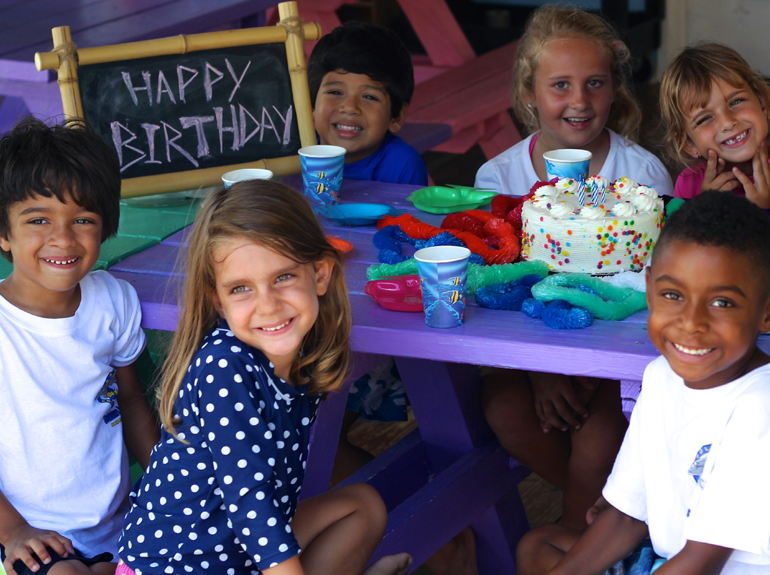 Birthday Blowout Package!
Celebrate Your Birthday Dolphin Encounters Style!
Looking for a cool place to celebrate your Birthday?
Look no further…Dolphin Encounters is the place for the best Birthday Party ever! Join us for our fantastically fun and educational parties and we'll help create memories that will be treasured for a lifetime.
Slip, Slide, Bounce and Celebrate Dolphin Encounters style! It's the only party place with two inflatable parks and a beautiful beach
Packages Include:
Boy or Girl Goodie Bags
Kid's Lunch
Group Photo for Each Child
Free Aqua Park & Tropical Bounce Park Admission
Birthday Host for the Day (20 + Kids) additional fee for 1-19 kids.
Round-Trip Boat Transportation
Beach Access & Lifeguards
Use of Tubes & Noodles
Free Animal Observation
$49 (Ages 4-12)
$59 (Ages 13+)
$39 (Chaperones)
$7 Ages 3 & Under (Lunch Only)
*VAT include
Guidelines & Restrictions:
Minimum: 10 children
Children Age 4-12 years: : $49.00 each
Children Age 13 years & up: $59.00 each
Children 3 & Under: $7.00 each (lunch only)
Chaperone Rate: $39.00 each — includes lunch package & choice of noodle or inner tube for the day
Departure Times: 8:30am, 10:30am & 12:30pm
Return Times: 1:30pm, 2:30pm & 4:30pm
NO outside food or beverages EXCEPT bottled water or birthday cake—cake NOT included in packages
Inflatable Parks: children must be 3 years old to use these areas AND children 12 years of age and under must be supervised by an adult
Add-On Activities & Services
Dolphin Kiss Photo $20.43 per person
Dolphin Encounter $27 per person Includes backpack, photo & activity kit for kids
Dolphin Beaching Photo $39.78 up to 5 persons
Photo-Videographer for the Day $215 Includes one CD & one DVD
Aqua Bikes, Kayaks, Paddleboats, & Snorkel Kit
Rentals—additional fee for each
Snow Cones, Popcorn or Cotton Candy $80.62 Rental fee includes 50 servings & additional at $2.69ea
Face Painting—$80.62 per hour
*VAT included
Reservations: 242-363-1003 or 363-7162
Email: info@dolphinencounters.com