For years, Dolphin Encounters has been giving people the opportunity to make memories with some of the world's favorite aquatic mammals – most would agree that there's nothing forgettable about a dolphin foot push! But, for a few special visitors, the Dolphin Encounters team has been pulling out all the stops to make their encounters that much more incredible – and with good reason, because every couple should feel incredible on their wedding day. That's right – the Blue Lagoon and Dolphin Encounters teams have been helping couples take the big leap for years – and it always ends with a splash.
With a private island at their fingertips, couples are offered the chance to make the day a truly unique experience; it begins with exchanging vows in front of two very special witnesses. Just askScott and Alyssa Hildebrand of Butler, Pennsylvania, who realized their wedding day dream by exchanging vows in Blue Lagoon Island's sparkling waters, with Jake and Shawn – two of Dolphin Encounters' dolphins – looking on adoringly.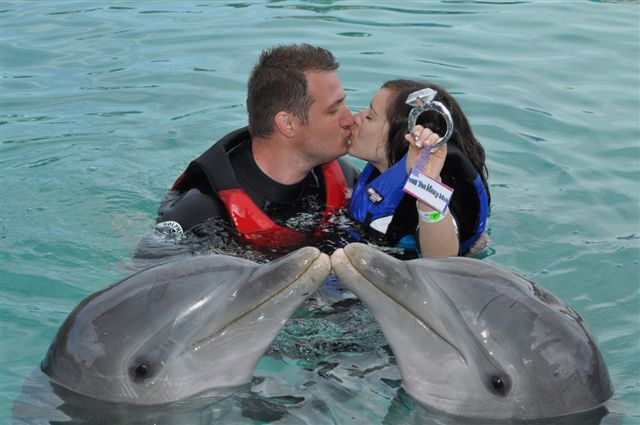 "The wedding was fantastic and we couldn't imagine doing anything better," said the new Mrs. Hildebrand. "The interaction with the dolphins is what appealed to us and made the ceremony more memorable from beginning to end. There is nothing surrounding you but love and happiness from the Dolphin Encounters staff, to the minister, to the dolphins themselves and the one you're holding hands with. Anyone looking into a non-traditional wedding or renewing their vows should seriously consider this as an option."
The Dolphin Encounters and Blue Lagoon teams are happy to help – destination weddings are one of their specialties. That's why one particular couple traveled more than 5,000 miles from the Netherlands to tie the knot in front of Jake, their rather curious ring bearer.
Though he's been to his fair share of weddings, Jake isn't tired of seeing couples make the big commitment, and neither are the rest of the Dolphin Encounters family, who, over the years, have helped couples make their dreams come true by arranging their weddings in paradise. Wedding packages include the service of a minister, decorations on the island and on platforms, catering, a wedding cake, champagne and professional photos and video that capture extraordinary moments.
Dolphin weddings aren't the only way that the dolphins take part in occasions of the heart. Dolphin Encounters also offers engagement services free to couples who participate in one of its programs and who are taking the first step in making their lifelong commitments. The engagement takes place in the water, with the dolphin bringing the ring to the couple.