An Authentic Bahamian Experience
Dolphin Encounters is the oldest dolphin facility in Nassau and is owned and operated by a local family – so you can be sure that your program will be safe, educational, fun and authentically Bahamian.
Repeatedly Voted One of the Top Attractions In The Bahamas
Dolphin Encounters is one of the top attractions in the Bahamas. More than 2.5 million people have visited us since we opened our all-natural facility in 1989. Dolphin Encounters has literally set the standard for marine mammal interactive programs in our country and beyond.
Spectacular All-Natural Environment on a Secluded Private Island
Whether guests are participating in one of the interactive animal programs or just observing, a visit to our beautiful island alone is worth it. Surrounded by turquoise blue water on all sides and covered with thousands of native coconut trees, lush landscaping and a natural lagoon, Blue Lagoon Island is an extraordinary private island that offers guests a glimpse of an untouched paradise. There is no other facility in the world that offers the same experience. It also provides our marine mammals with an unmatched, all-natural ocean habitat.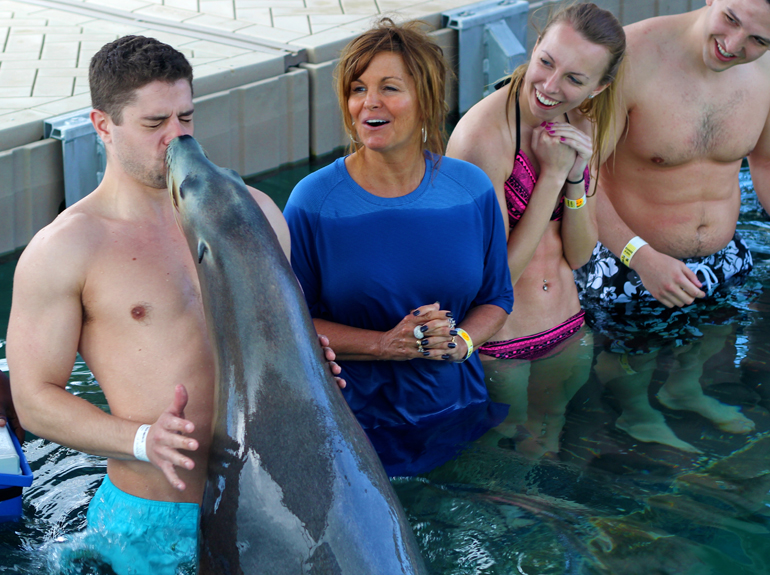 Boat Ride Offers the Opportunity to See Nassau's Harbour and Other Islands
You get the opportunity to have a boat ride on our large, high-speed, double-decker catamarans through Nassau's historic harbour over to Blue Lagoon Island. The scenic ride includes great views of Nassau, Paradise Island and best yet an unspoiled private island far away from hotels or other buildings.
We know that not all of our guests are big boaters and a few may worry about the size of the vessels or the length of the trip. Relax! Our catamarans are large, double-decker vessels that can each carry well over 100 passengers. Each boat has a captain and two mates, is equipped with life vests and is fully licensed and inspected. The ride is approximately 20-minutes and you never lose sight of land or venture far out to sea. Sit back, relax and enjoy as we cruise through Nassau's harbour, past Paradise Island and over to Blue Lagoon Island. The boat ride is very picturesque and worth the trip!
All Guests Are Welcome
Dolphin Encounters offers programs that meet everyone's needs, even timid or non-swimmers can enjoy a program and make their dream of meeting a dolphin come true. We also work closely with special needs guests. With arrangements made at the time of reservation, we can accommodate any person with a physical and/or mental special need in a program that they will enjoy. We also have a waterproof wheelchair that allows guests to meet the dolphins face to face. The facility is wheel chair accessible and we also work closely with the Make-A-Wish Foundation.