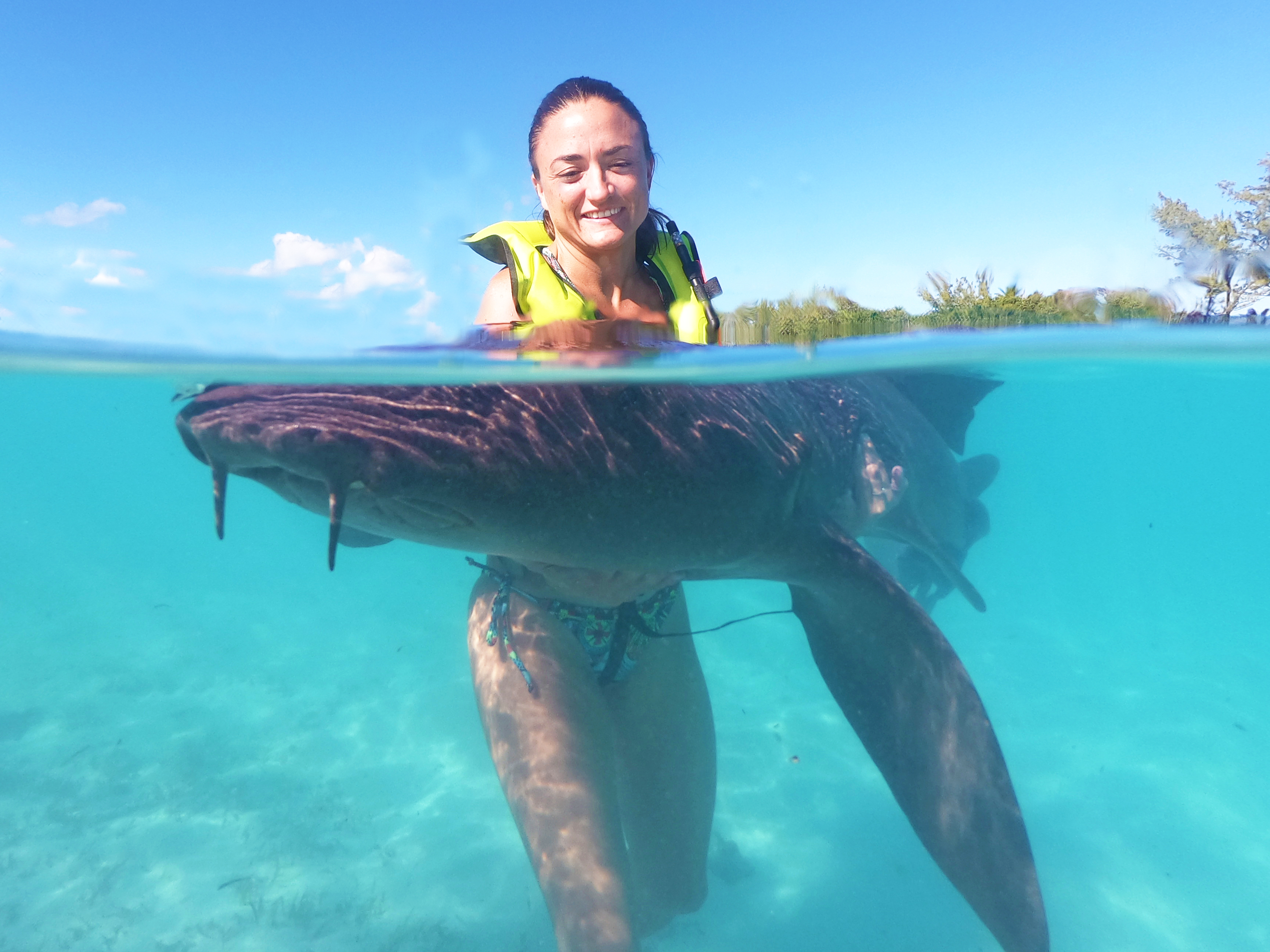 Shark Encounter & Snorkel
Price

$129 per person

*plus 10% Value Added Tax
Includes round-trip transportation by large catamarans to Blue Lagoon Island
Shark Encounter Overview
Your bucket list just got shorter! Get up close and personal and snorkel with mild mannered native Bahamian Nurse Sharks in the Shark Encounter on Blue Lagoon Island.
In intimate groups of 6 you'll be guided by expert trainers; enjoy rub downs and an opportunity to feed these amazing creatures. Watch in awe as your trainer guides these animals throughout the ocean habitat with ease and precision. Feel the full weight of these robust animals as you cradle the shark in your arms. 
The thrill continues as you you snorkel in the shark habitat under the guidance of your trainer.  Watch as your new shark friends glide along the bottom of the ocean while taking in views of the vibrant colourful sea life of the crystal clear waters of The Bahamas.
Our professional photo & video staff will be capturing your encounter so that you will have a chance to take home incredible souvenirs of your once-in-a-lifetime experience.
TIME: Ferry and actual encounter times vary. A customer service representative will contact you ahead of your booked excursion to confirm your ferry departure and check in times. Your Shark Encounter time will be set the morning of and communicated to you at check in. Please contact our Reservations Department via phone Toll free: 1-866-448-9535 or Local 242-363-1003 or email reservations@dolphinencounters.com if you need to speak with us prior to receiving that call.
Highlights
Shallow water interaction with docile nurse sharks
Snorkel with sharks
Meal Included
25 min scenic ferry ride through Nassau Harbour
Inclusions:  
Roundtrip ferry ride to and from Blue Lagoon Island. 
Buffet lunch
Access to powder white sand beach and calm and shallow lagoon
Inner tubes
Beach lounge chairs
Fresh water showers and full restroom facilities
Locker during your Encounter
Exclusions: 
Ground transportation from hotel, or rental property
Any food or drink not included with buffet lunch 
Non-motorized watersports equipment and Aqua Park access
Photos or Video of your interaction (can be purchased additionally)
What to Bring:
Swimsuit, comfortable shoes and water shoes, towels, and cash or credit card for additional purchases. 
Know Before You Go:
Program times are assigned on check-in at the Sales Center
All guests are required to complete a WAIVER prior to check in. Parents must complete for all minors. Click here to complete and submit the digital waiver. 
Water shoes are required for participated in the Shark Encounter
Photo & Video:
To ensure the safety of our animals and guests, personal cameras, cell phones, GoPros or other electronic devices cannot be brought onto the platform during the animal program.
Our professional photo & video staff will be capturing your animal interaction that can be digitally sent to you following your session (additional fee). Be sure to stop at the Photo Lab to order these special memories of your once-in-a-lifetime experience before you leave Blue Lagoon Island. 
Restrictions:
The Shark Encounter is available to guests ages 10 years and over.
Guests ages 10-12 and must be accompanied in the water by a responsible, ticketed parent/guardian participating in the Shark Encounter. Parent/guardian must be at least 18 years of age.
Guests ages 13 to 17 must be accompanied on the island by a parent/guardian (with ticket in any program).
Guests must have the ability to go up and down ladders to access platform.
Pregnant women are not allowed in the Shark Encounter program.
No drones, scuba equipment or metal detectors are allowed on the island. 
No outside food or drinks are allowed on the island. 
Blue Lagoon Island reserves the right to refuse service to any guest under the influence of alcohol or any illegal drugs.
Cancellation Policy: 
No refunds will be issued for cancellations made less than 24-hours prior to the booked program. Groups may require a longer cancellation period depending on size.
No refunds will be issued for guests who do not meet the program requirements for age, physical fitness, maternity reasons or who violate company policies.
We go rain or shine! No refunds for bad weather unless Blue Lagoon Island cancels the excursion.
Blue Lagoon Island reserves the right, under certain circumstances, to omit specific behaviors or interactions from the animal programs.
Accessibility: 
If you or a member of your party has special needs, please contact us to determine whether this program is suitable. 
Guests using wheelchairs, scooters or other equipment to assist with mobility are asked to please contact our Reservations Department ahead of your visit so that our team is prepared to accommodate you. Call Toll free: 1-866-448-9535 or Local 242-363-1003 or email us at reservations@dolphinencounters.com