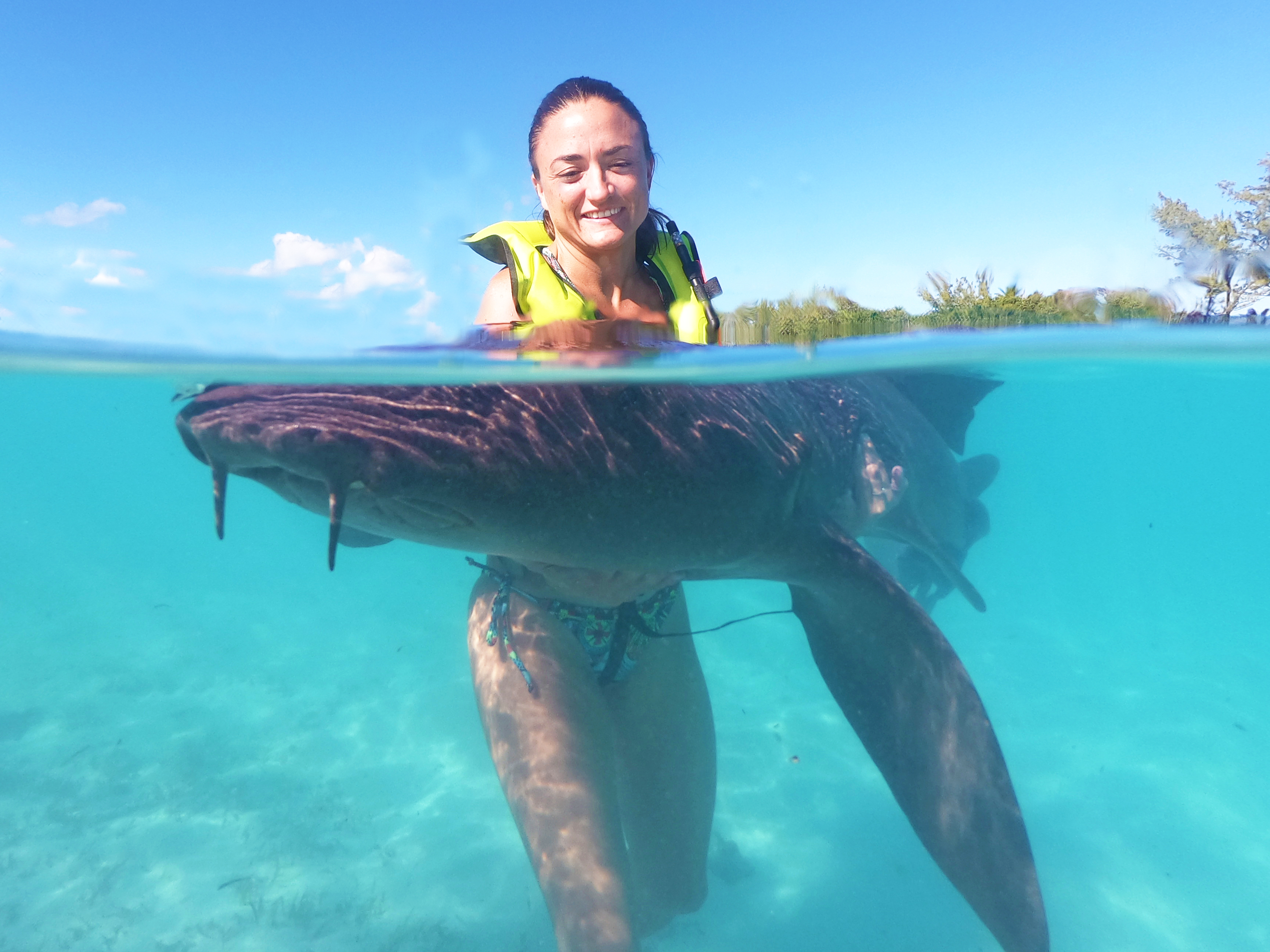 Shark Encounter & Snorkel
Price

$99 per person

Times

Duration

30 minutes

Total Length

5 hours

*plus 12% Value Added Tax
Includes round-trip transportation by large catamarans to Blue Lagoon Island
Your bucket list just got shorter! Encounter and snorkel with mild mannered native Bahamian Nurse Sharks on Blue Lagoon Island!
In intimate groups of 6 you'll be guided by expert trainers; enjoy rub downs and an opportunity to feed these amazing creatures. Watch in awe as your trainer guides these animals throughout the ocean habitat with ease and precision. Feel the full weight of these robust animals as you cradle the shark in your arms, while creating unforgettable memories captured by our professional team of photographers and videographers.
The thrill continues as you become fully immersed in the water with the provided life jacket. Under the guidance of your trainer enjoy snorkelling in crystal clear waters. Watch as your new shark friend glides along the bottom of the ocean while taking in views of the vibrant coloured sea life of the rich waters of the Bahamas.
Enjoy free access to any of the public beach spaces where you can purchase ice cold tropical drinks or a delicious Bahamian grilled lunch.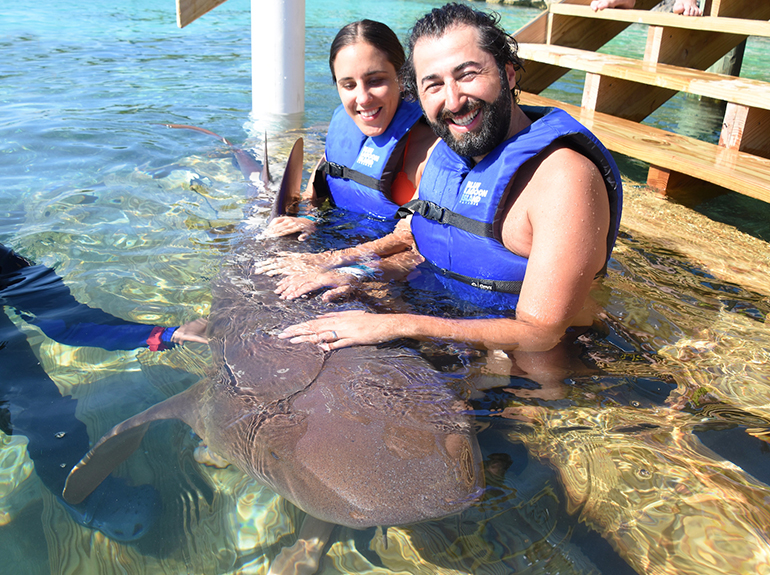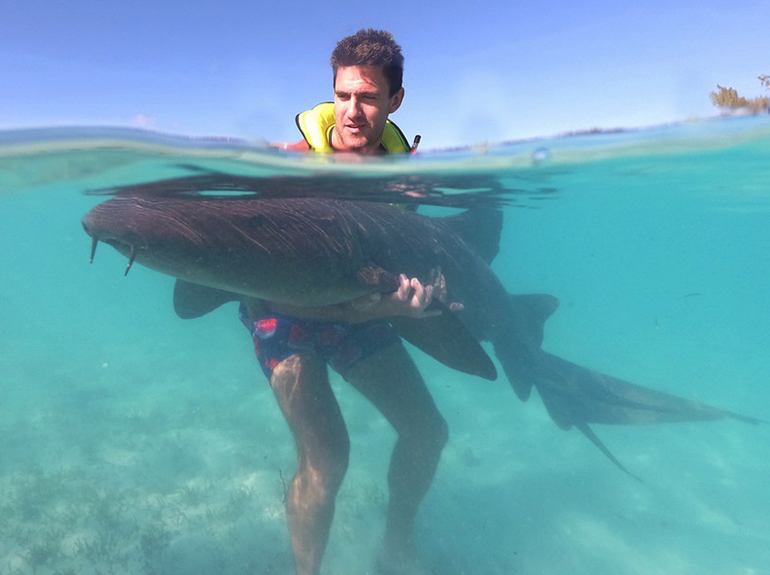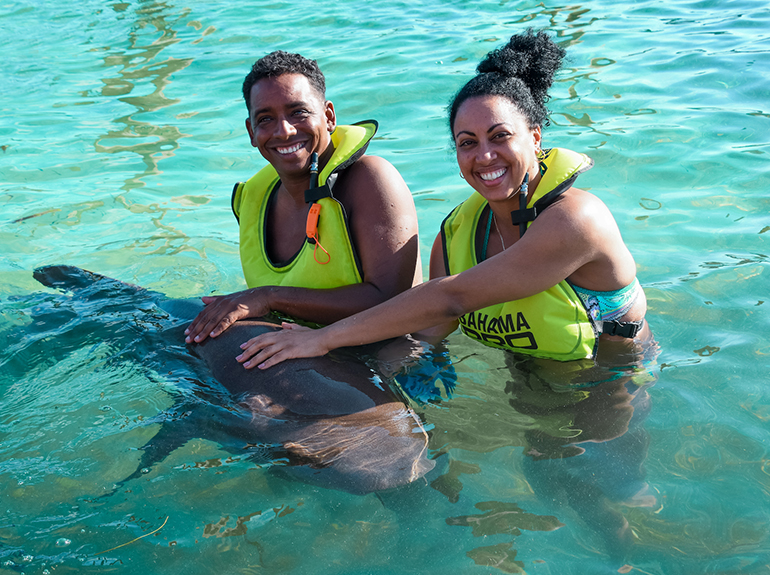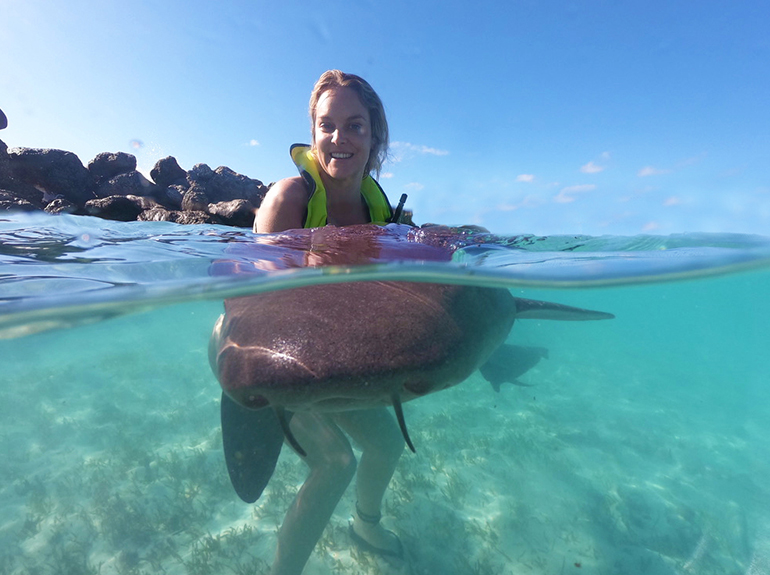 Program Includes:
Roundtrip scenic boat ride to and from Blue Lagoon Island
15-minute Shark Encounter
15-minute Shark Snorkel
One digital photo
Complimentary use of Lagoon Beaches
Hammocks and picnic tables
Beach chairs
Entrance into the Bahamian Village
Use of game areas
Unlimited use of inner tubes
Fresh water showers and changing rooms
Please Note:
Guests must wear water shoes while participating in this program. Water shoes are available to rent, purchase, or guests may bring their own.
Ages 10 & up, Ages 10-12 years must be accompanied by an adult with a paid shark ticket. Ages 13-17 years must be accompanied by an adult (with an observer or beach day ticket) Observations are done from the dock only.
Payment is required at the time of booking.
Vouchers purchased from tour companies must be redeemed at the time of check-in to be valid.
No refunds will be issued for cancellations made less than 24-hours prior to the reserved program. Groups may require a longer cancellation period depending on size.
No refunds will be issued for guests who do not meet the program requirements for age, physical fitness, maternity reasons or who violate company policies.
We go rain or shine! No refunds for bad weather unless Dolphin Encounters, Ltd cancels the excursion.
If you purchased your ticket online with a credit card, please note that you must bring that card and a government issued ID for proof of purchase upon check in
All participants are required to wear a life vest for duration of this program.
Guests must be able to swim in deep water if participating in the snorkel portion of this program.
Equipment provided is for use during the scheduled shark encounter only
Guests may use their own personal mask and snorkel. However, fins are not allowed in this program.
Guests with physical special needs, or who require assistance with walking or standing are not allowed into this program.
Pregnant women are not allowed into this program.
Guests may not take cameras on to platforms, into the water or on to exhibits.
To ensure the safety of our animals, personal cameras, phones, Go Pros, recording or other digital / electronic devices cannot be used during the animal program.
Dolphin Encounters, Ltd reserves the right, under certain circumstances, to omit specific behaviours or interactions from the program.
Alcoholic beverages are not allowed on the property.
Dolphin Encounters, Ltd reserves the right to refuse service to any guests under the influence of alcohol or any illegal drugs.
No scuba equipment is permitted on the island.
Blue Lagoon Island is a no drone zone.