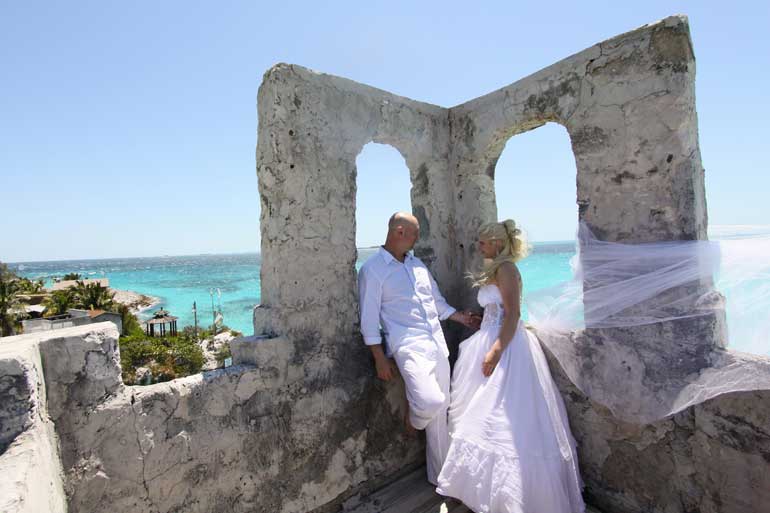 Blue Lagoon Island Wedding Ceremony and Reception
Please contact us for a customized package to include:
Wedding coordination
Minister
Marriage License
Entertainment
Decorations
Floral Arrangements
Wedding Cake
Food & Beverage Arrangements and more…
Please contact:
Public Relations
Email: pr@dolphinencounters.com
Charmaine Moss
Telephone: (242) 363-7162
Fax: (242) 363-4437
Email: charmaine@dolphinencounters.com
Latoya Scavella
Telephone: (242) 363-7167
Fax: (242) 363-4437
Email: latoya.scavella@dolphinencounters.com
A Dolphin Encounters Wedding or Proposal
Dolphin Encounters take great pleasure in providing wedding and proposal opportunities that are among the most unique in the world. Beautiful Blue Lagoon Island, with its naturally lush tropical setting, breathtaking ocean vistas, provides the perfect venue, to create lifetime memories.   Surrounded by friendly dolphins is the ultimate setting in which to propose or exchange vows. Each proposal or wedding is unique to each couple.
We offer three packages that can be tailored to fit your individual needs.
Many couples choose an engagement or water ceremony while others chose to proclaim their love on a platform in front of the dolphins or on one of our beautiful beaches.
With the dolphins as flower girls, ring bearers, and unofficial witnesses your engagement or wedding is guaranteed to be filled with many exciting and memorable moments
Conclude your engagement or wedding ceremony by participating in a private swim or beach reception. Whatever your choice, we ensure that your event is incredibly meaningful to you.
We also work closely with each couple to arrange all the necessary legal documents required by the Bahamas Government.
Please see the following link for requirements for your Bahamas wedding http://www.bahamas.com/marriage-license