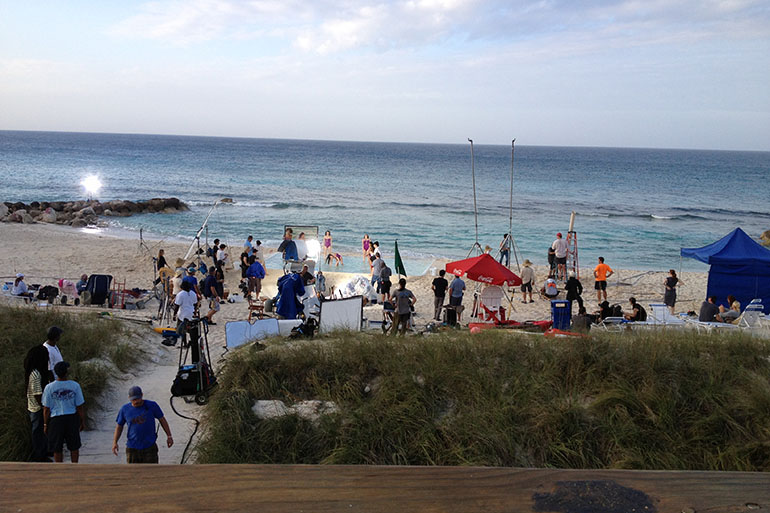 Location for Film, Television, Commercial Photo Shoots, Concerts
Blue Lagoon Island has been the location for many commercial film and television shoots because of its diverse and beautiful landscapes. Stunning beaches, tropical palm trees, rugged coastline, a calm lagoon, dolphins and sea lions, lush vegetation, and a unique mix of old and new buildings all provide stunning backdrops. It is possible to create desert island backgrounds with every amenity just feet away.
Our team of professionals work with your crew to make the shoot seamless from start until it's a wrap. We have collaborated with world-renowned producers, directors, cinematographers, choreographers and photographers and have ensured that every production has exceeded the original vision.
A few of our commercial shoots include H&M featuring Beyonce (four locations on Blue Lagoon), Kipling, Cosmopolitan, South Moon Under, The Today Show/NBC, E!, MTV, CBS, CNN, GMTV, ESPN, Penn and Teller and many travel and reality shows from around the world. Concerts have included, Weezer, Earth, Wind and Fire, LeAnn Rimes, The Tyler Perry Band and more.
Amenities for production include
Craft Services with menus to suit every palate and dietary need
VIP Green Rooms/Dressing rooms
Wifi at any location
Reserved dining areas
Special charters
Assist with bringing equipment to Blue Lagoon
Security
For more information regarding Blue Lagoon Island as a location please contact:
Public Relations
pr@dolphinencounters.com