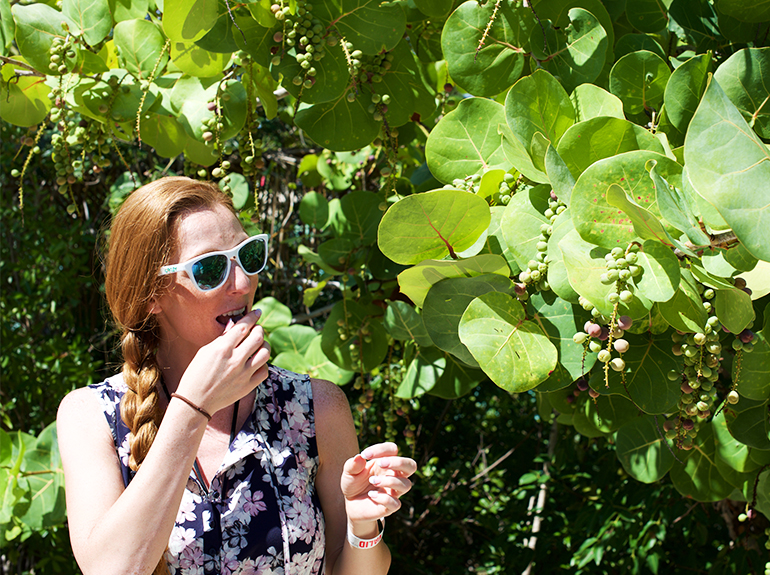 Eco Adventure Tour
Price

$99 per person

*plus 10% Value Added Tax
Includes round-trip transportation by large catamarans to Blue Lagoon Island
Eco Nature Adventure Tours Overview
Experience the intrigue of the flora, fauna and marine geology found on stunning, private Blue Lagoon Island during this land and sea adventure! This fun tour starts out with a kayak paddle across the lagoon where you get to see and meet some of the wildlife of the inner tidal zone, explore the beaches and native forest, and learn about the fascinating history of The Bahamas and Blue Lagoon Island. Our knowledgeable and entertaining guides keep you informed as you visit sites on the island, learning about island folklore, native foods and plants, birds and our diverse marine life, including stingrays, sharks, dolphins and sea lions. Spend time exploring parts of this tropical paradise not accessible to other visitors in a truly authentic island experience. Your one-hour tour culminates with a visit to The Tower, with its magnificent views of the surrounding turquoise waters. Each participant will receive a bottle of water and a personal digital image taken during the tour.
After your tour visit the Sea Lion habitat, the home of our California sea lions that were rescued from Gulfport, Mississippi in the aftermath of Hurricane Katrina – including the stars of the movie Andre and Slappy and the Stinkers.
Peruse the gift shop for some authentically Bahamian souvenirs or enjoy refreshments overlooking spectacular ocean views. Take in the beauty of the natural surroundings that has made the island and the facility a must-see for visitors and tourists in The Bahamas. This is a relaxing trip to the truly unique and beautiful private island, home of friendly dolphins sea lions and other amazing marine animals – no wonder it's considered one of the main attractions in The Bahamas!
TIME: Ferry and actual encounter times vary. A customer service representative will contact you ahead of your booked excursion to confirm your ferry departure and check in times. Your Eco Nature Adventure Tour time will be set the morning of and communicated to you at check in. Please contact our Reservations Department via phone Toll free: 1-866-448-9535 or Local 242-363-1003 or email reservations@dolphinencounters.com if you need to speak with us prior to receiving that call.
Highlights
Guided kayak tour across the Lagoon. 
Knowledgeable guide on Bahamian history, culture & marine life
Climb to the top of the iconic Blue Lagoon Island Tower for spectacular aerial views.
Access to all-natural animal habitats to view dolphins, sea lions, stingrays and sharks.
Inclusions:  
1 Hour walking and kayak adventure Tour of Blue Lagoon Island
Roundtrip ferry ride to and from Blue Lagoon Island
Bottle of water during tour
1 digital photo of guest at Tower 
Buffet lunch
Access to powder white sand beach and calm and shallow lagoon
Inner tubes
Beach lounge chairs
Fresh water showers and full restroom facilities
Locker during the adventure tour
Access to marine park to view amazing animals
Exclusions: 
Ground transportation from hotel, or rental property
Any food or drink not included with buffet lunch 
Non-motorized watersports equipment and Aqua Park access
What to Bring:
Swimsuit, comfortable walking shoes and water shoes, towels, and cash or credit card for additional purchases. 
Know Before You Go:
Program times are assigned the morning of and communicated upon check-in at the Welcome Center
All guests are required to complete a WAIVER prior to check in. Parents must complete for all minors. Click here to complete and submit the digital waiver. 
All guests are required to follow COVID-19 Health & Safety Protocols, including: wearing masks except when on the beach, seated for lunch or while participating in an animal program; have temperature taken upon boarding the ferries; maintain social distance; and sanitize hands regularly.  
Eco Nature Adventure Tour participants wishing to upgrade to available Dolphin Swim, Dolphin Encounter, or Sea Lion Encounter spaces may apply the value of the Eco Nature Adventure ticket toward the purchase of the upgrade. Upgrade option available same day only and subject to availability. Ask guest services upon arrival at Blue Lagoon Island. Upgrade cannot be booked in advance.
Restrictions:
Guests must be able to stand, walk unassisted along slightly uneven sand and rock covered pathway, climb the stairway to the top of the Tower, and be able to paddle a kayak unassisted. The Eco Nature Adventure Tour is available for guests ages 10 and up. 
Children ages 10-17 must be accompanied by a responsible, ticketed parent/guardian participating in the Eco Nature Adventure Tours program.
No drones, scuba equipment or metal detectors are allowed on the island. 
No outside food or drinks are allowed on the island. 
Blue Lagoon Island reserves the right to refuse service to any guest under the influence of alcohol or any illegal drugs.
Cancellation Policy: 
No refunds will be issued for cancellations made less than 24-hours prior to the reserved program. Groups may require a longer cancellation period depending on size.
No refunds will be issued for guests who do not meet the program requirements for age, physical fitness, maternity reasons or who violate company policies.
We go rain or shine! No refunds for bad weather unless Blue Lagoon Island cancels the excursion.
Accessiblity: 
While Blue Lagoon Island does work hard to ensure general accessibility, we do ask guests who have special needs to call our Reservations Department before booking the Eco Nature Adventure Tour to ensure it is a suitable option.
Guests using wheelchairs, scooters or other equipment to assist with mobility are asked to please contact our Reservations Department ahead of your visit so that our team is prepared to accommodate you. Call Toll free: 1-866-448-9535 or Local 242.363.1003 or email us at reservations@dolphinencounters.com