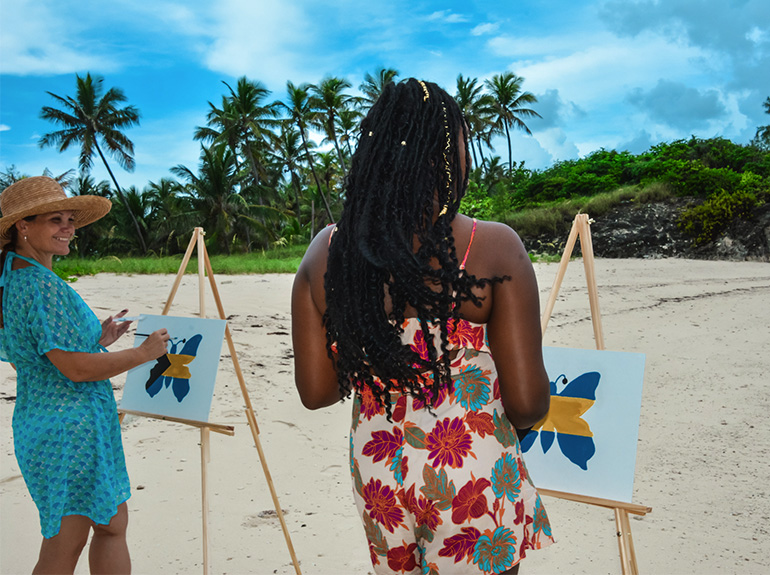 Sip & Paint
Price

$95.00

Duration

5 hours

*plus 10% Value Added Tax
Includes round-trip transportation by large catamarans to Blue Lagoon Island
Sip & Paint Overview
Sip, Paint & Splash on Blue Lagoon Island! 
The Sip & Paint program is the newest addition to the exciting beach day activities on our beautiful private island. 
With an idyllic setting as your backdrop you'll be instantly inspired as you sip on unlimited tropical drinks under the gentle sway of palm trees with sand between your toes. 
The fun starts with a journey on one of our high-speed ferries that allows you to view many of the main attractions in the Bahamas. See Nassau's historic and scenic harbour as you cruise by Paradise Island and Nassau to beautiful Blue Lagoon Island, 
Then spend an hour, with a host and instructor as you are guided through the creation of your very own masterpiece. 
While the paint dries, feel free to take a dip in the lagoon or add some adventure to your day by booking an animal interaction or the thrilling Segway Adventure. You can also enjoy shopping in the gift shop or refreshments overlooking spectacular ocean views. 
Take in the beauty of the natural surroundings that has made the island and the facility a must-see for visitors and tourists in the Bahamas. This is a relaxing trip to the beautiful private island home of friendly dolphins, sea lions, and other amazing marine animals, that's truly unique – no wonder it's considered one of the main attractions in the Bahamas!
Highlights
Unlimited Tropical Drinks (Alcoholic and Non-Alcoholic) 
Create your own painted masterpiece
Access to Dolphin Encounters facility to view marine life
Access to Beach and Lagoon Areas
Inclusions:  
Roundtrip ferry ride to and from Blue Lagoon Island
Canvas, paint and tools for painting
Beverages (as stated in highlights) 
Access to powder white sand beach and calm and shallow lagoon
Inner tubes
Beach lounge chairs
Fresh water showers and full restroom facilities
Exclusions: 
Ground transportation from hotel, or rental
Lunch (can purchase buffet or from a la carte menu)
Beverages not included with the Sip & Paint tour
Non-motorized watersports equipment and Aqua Park access
What to Bring:
Swimsuit, comfortable shoes or water shoes, towels, and cash or credit card for additional purchases. 
Know Before You Go:
Program times are assigned the morning of and communicated upon check-in at the Welcome Center
All guests are required to complete a WAIVER prior to check in. Parents must complete for all minors. Click here to complete and submit the digital waiver. 
All guests are required to follow COVID-19 Health & Safety Protocols, including: wearing masks except when on the beach, seated for lunch or while participating in an animal program; have temperature taken upon boarding the ferries; maintain social distance; and sanitize hands regularly.  
Sip & Paint participants wishing to upgrade to available Dolphin Swim, Dolphin, or Sea Lion Encounter spaces may apply the value of the Sip & Paint Ticket toward the purchase of the upgrade. Upgrade option available same day only and subject to availability. Ask guest services upon arrival at Blue Lagoon Island. Upgrade cannot be booked in advance.
Restrictions:
The Sip & Paint tour is open to guests ages 4 years and up.
4 years – 12 years must be accompanied by a responsible, ticketed parent/guardian participating in the Sip & Paint program.
Guests travelling with children under the age of 18 who are not participating in the Sip & Paint must have an adult present to supervise the minor(s). The accompanying adult must have a ticket to any Blue Lagoon Island program.
Minors and/or guests with Program Observer tickets are not allowed to accompany the Sip and Paint guest in the area while the program is in session. 
No drones, scuba equipment or metal detectors are allowed on the island. 
No outside food or drinks are allowed on the island. 
Blue Lagoon Island reserves the right to refuse service to any guest under the influence of alcohol or any illegal drugs.
Cancellation Policy: 
No refunds will be issued for cancellations made less than 24-hours prior to the reserved program. Groups may require a longer cancellation period depending on size.
No refunds will be issued for guests who do not meet the program requirements for age, physical fitness, maternity reasons or who violate company policies.
We go rain or shine! No refunds for bad weather unless Blue Lagoon Island cancels the excursion.
Accessiblity: 
While Blue Lagoon Island does work hard to ensure general accessibility, we do ask guests who have special needs to call our Reservations Department before booking the Sip & Paint Tour to ensure it is a suitable option.
Guests using wheelchairs, scooters or other equipment to assist with mobility are asked to please contact our Reservations Department ahead of your visit so that our team is prepared to accommodate you. Call Toll free: 1-866-448-9535 or Local 242.363.1003 or email us at reservations@dolphinencounters.com