Blue Lagoon Island is hosting a JOB FAIR
FRIDAY, SEPTEMBER 27, 2019
HOLY TRINITY ACTIVITY CENTRE, STAPLEDON GARDENS
8:30AM – 4PM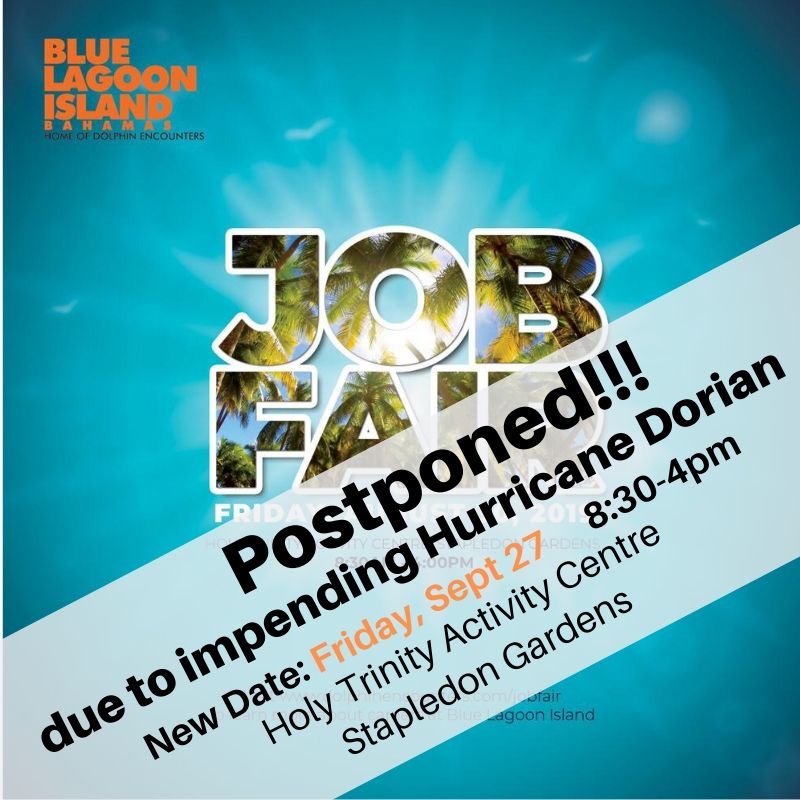 If you love people, the sea and outdoors then we're a perfect fit.
Interviewing for the following areas:
ACCOUNTS
Accounts Clerk
Accounts Cashier
Accounts Payable
Accounts Receivable
ADVENTURE TOURS
Segway Tour
Eco Nature Walk Tour Guide
 COST CONTROL
Responsibilities Include:
Receiving and loading of local/international goods at Market Place.
Off-Load and transport of local/international goods to storage areas on Blue Lagoon Island.
Issuance of inventory from storage areas to various department personnel.
Assist with cross-checks of incoming shipments.
BEACH SERVICES
Beach Activities
Beach Development
Lifeguard
VIP Beach
Water Sports
BOATING
FOOD & BEVERAGE
Bartender
Chef
Cook
Server
Steward
GUEST SERVICES
HOUSEKEEPING
HUMAN RESOURCES
ISLAND AGENTS
Responsibilities Include:
To maintain beach shoreline by grooming, rock removal, seaweed removal and safety check.
Deep cleaning kitchen and restrooms and its surrounding areas.
Painting
Assist with Landscaping duties
Nightly property audit – Monitor and report on any equipment or issue as direct by management including animal observation.
Garbage Management- Consisting of garbage collection, garbage burning, cleaning and sanitize waist receptacles, transport off the Island and secure.
ISLAND DEVELOPMENT
Landscaping
Maintenance
Project Team
Sound
LIFEGUARD
OFFICE ADMINISTRATION
PHOTO & VIDEO
RESERVATIONS
RETAIL
SECURITY
VIP BEACH
WATER SPORTS
ZOOLOGICAL
Trainer
Marine Maintenance
You must bring the following Items with you:
A completed Job Application (which can be found here.)
An updated Resume
A valid Passport
A valid Police Character Certificate
NIB card
Two reference letters
Education Diplomas and Certificates