An Abaco student's artwork depicting the damage that can happen if we don't all protect the ocean has been internationally recognized by the marine zoological facility Delphinus, located just outside of Cancun, Mexico.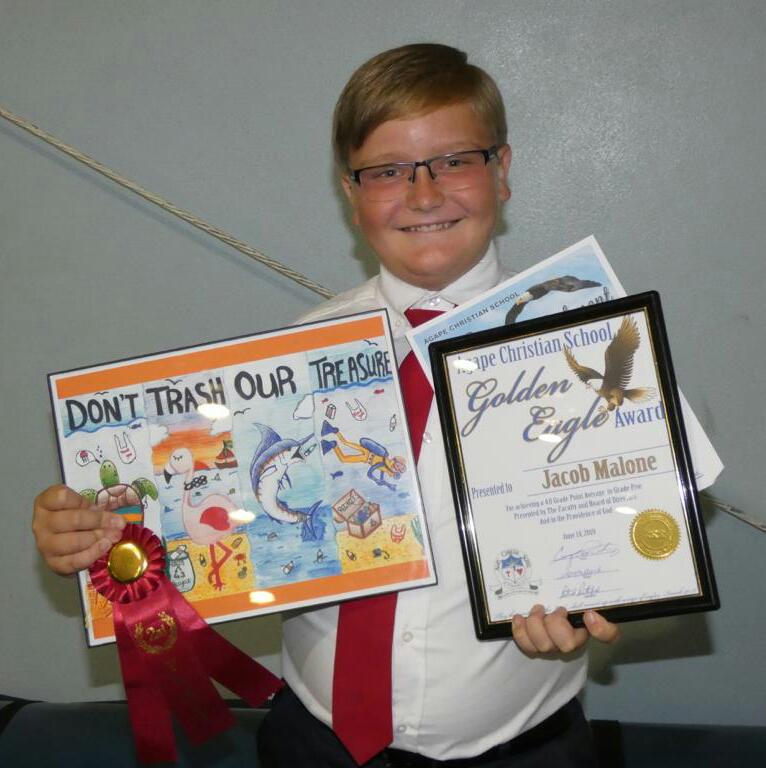 Jacob Malone, an 11-year-old fifth grader at Agape Christian School in Marsh Harbour, Abaco, won 2nd place in the International Festival of the Oceans Drawing for his creative illustration of the theme 'Don't Trash Our Treasure.'
Initially, Jacob's art won 2nd place in the Grade 3-5 Category of the national Marine Education Poster Competition 2019, hosted annually by Dolphin Encounters – Project B.E.A.C.H. on Blue Lagoon Island.
As a member of the Alliance of Marine Mammal Parks & Aquariums, Blue Lagoon Island submitted 28 of the top qualifying pieces of this year's art into the international children's art competition in Mexico. A number of the Bahamian submissions were prominently displayed at the arrivals concourse of the Cancun International Airport.
Though Delphinus only awarded a prize to the 1st place international winner of the Mexican competition, Blue Lagoon Island teamed up with its sister company Treasure Cay Beach, Marina & Golf Resort in Abaco to recognize Jacob's accomplishment.
In addition to the prize earned for his national placement, Jacob was also awarded a family dinner for four at any of the resort's restaurants in Treasure Cay.
Jacob's art teacher, Faith Malone, said they were all excited to learn of his second place recognition.
"It's fantastic. I don't think Agape has ever placed in one of the competitions, so this opens doors for not only Jacob, but the school as well," she said upon hearing the news.
She described Jacob as a top student who is also extremely creative. He was the school's only primary school student to attain a 4.0 GPA this year.
At his school's award ceremony, Jacob was recognized for his impressive art achievement and received a framed photo of his artwork, his national award ribbon, an international certificate of achievement from Delphinus and his prizes.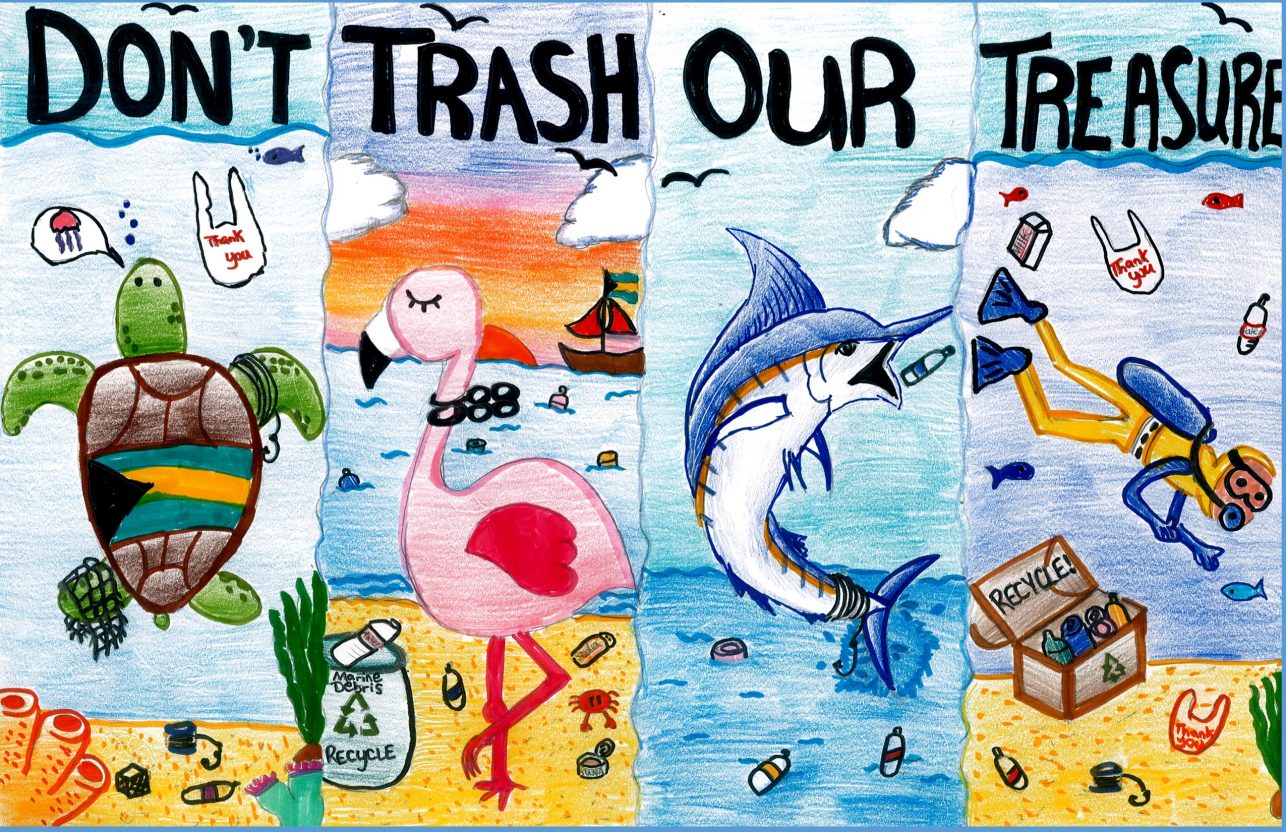 Te-Shalla Clarke, Education Supervisor at Blue Lagoon Island, was also excited by Jacob's international achievement.
"I am ecstatic and really proud of Jacob for being recognized for the amazing work that he did," she said, adding "The amount of time and effort he put into creating the art piece and then having it shipped to us from a Family Island shows a level of dedication that deserves to be recognized not just locally but internationally. His art work depicts the negative effects of marine debris while showcasing his Bahamian pride through the flag and our national fish."
Jacob's art was one of nine Agape art pieces that Ms Malone entered into the national competition. She said art is an important way for young Bahamians to express their opinions and concerns about important issues like marine debris and conservation.
"Art allows people to be able to see this important message visually and not just hear about it. Artwork like the piece Jacob created helps people actually picture it and see what is happening and what could happen if we don't stop trashing our treasure," she said.
About Blue Lagoon Island — Home of Dolphin Encounters                                                                                                                     Since 1989, Dolphin Encounters, located on idyllic, Blue Lagoon Island, Bahamas, has offered visitors from around the world a unique opportunity to interact and learn about marine animals in an unparalleled, all-natural marine habitat. Home to native Atlantic Bottlenose dolphins, Southern stingrays, California sea lions and other wildlife, this American Humane certified attraction continues to set the standard for marine animal interactive programs in the world.
Owned and operated by a local family, Blue Lagoon Island is a private island experience that provides guests with authentic, eco-friendly, sustainable, Bahamian experiences through their animal interaction programs, eco-nature walking tour, Segway safari, beach day programs, and through educational programs offered yearly to more than 8,000 students. To learn more about Blue Lagoon Island visit www.DolphinEncounters.com.