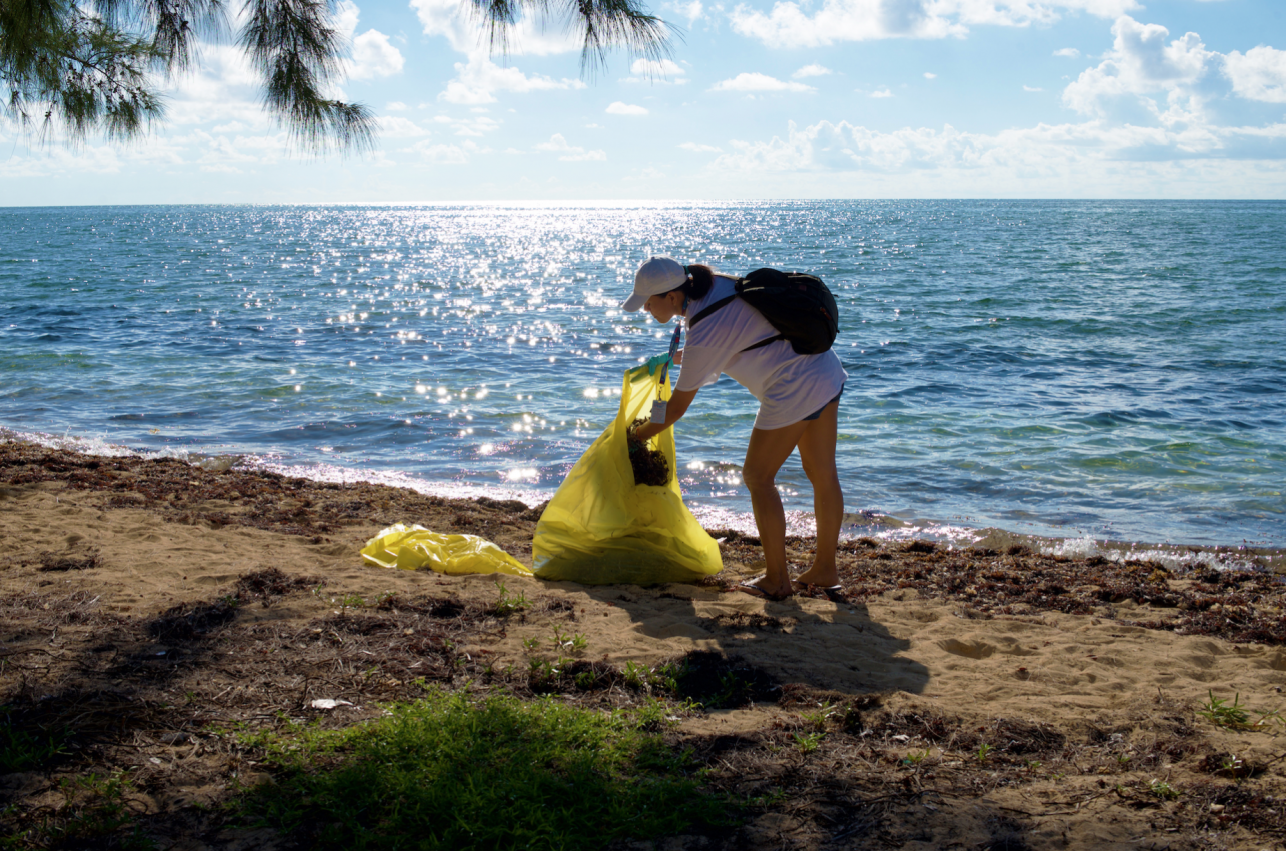 NASSAU, BAHAMAS – In the wake of Hurricane Irma volunteers throughout The Bahamas are preparing to take part in the Ocean Conservancy's 32nd Anniversary of International Coastal Cleanup on Saturday, September 16th, 2017.
Volunteers from all over the world have gathered every year along coastlines and waterways to participate in the International Coastal Cleanup®. Many walk, others set out on boats and thousands more don scuba gear to seek trash below the water's surface. Last year, 791,336 people from 91 countries picked up more than 18 million pounds of trash along 25,188 miles of coastline. This year celebrates 32 years of volunteerism for a healthier ocean. As such, it makes a powerful statement about global concern for the environment and empowers local communities to do something about pollution.
"Hurricane Irma will make this clean up even more important as there will be more debris in her wake. The Bahamas has participated for many years in the Ocean Conservancy's ICC and we will again this year to make difference to our marine environment," said Annette Dempsey, Director of Education for Dolphin Encounters on Blue Lagoon Island and Coordinator of ICC in New Providence. "This year, we return to South Beach (poolside) from 8:00 a.m. – 10 a.m. and encourage members of the public to join us. The South Beach area is filled with mangroves that are critical to our marine life. Please wear closed-in shoes, bring a water bottle, sunscreen and gardening gloves. Volunteers in Abaco and Grand Bahama are also participating and are hosting clean ups of their local beaches."
International Coastal Cleanup Day – Page Two
In Nassau:
South Beach (near Pools):           Dolphin Encounters – Project BEACH will host International Coastal Cleanup, Saturday, September 16, 2017 at 8:00 a.m. – 10 a.m. at South Beach (poolside) The public is invited to volunteer and attend. Free bus transportation will be available every 30 minutes starting at 7:30 a.m. from the Marathon Mall or Town Center Mall. Please wear closed in shoes, sunscreen and gardening gloves. Email Annette Dempsey at education@dolphinencounters.com for more information or to volunteer.
Dolphin Encounters – Project BEACH will also be hosting FREE Beach Buddies programmes for local students throughout the school year. Please call the Education Department at 363-7180 extension 303 to coordinate a programme.
"The International Coastal Cleanup engages people to remove trash and debris from the world's beaches and waterways, to identify the sources of debris, and to change the behaviours that cause pollution," added Ms. Dempsey. "The event isn't just about pollution clean-up it's about pollution prevention. The event focuses on educating and empowering people to become a part of the marine debris solution. We thank our sponsors for their support and participation. As a coastal community, keeping our ocean and waterways clean is vital to our environment and way of life. Together we can preserve our coasts."
This year's sponsors include: Coca-Cola, Caribbean Bottling Company; Aquapure; Bahamas Foam Insulation; Bahamas Waste; Bahamas Wholesale; Dolphin Encounters; The D'Albenas Agency; Dan Knowles Tours; Island Cellular; Johnson's Charter service, Leisure Tours; Ports International; Signarama; The Mall at Marathon; Town Centre Mall; The organization of American States; Bahamas National Trust, Cans For Kids; T and K Trucking, Randy C, DJ Spleen, DJ Energy and the Department of Environmental Health Services.
       To learn more about International Coastal Cleanup visit www.oceanconservancy.org. For information on the many outreach programs offered by Dolphin Encounters-Project B.E.A.C.H. please call Annette Dempsey at 363-7180 ext. 303 for more or visit www.dolphinencounters.com.
Ocean Conservancy educates and empowers citizens to take action on behalf of the ocean. From the Arctic to the Gulf of Mexico to the halls of Congress, Ocean Conservancy brings people together to find solutions for our water planet. Informed by science, our work guides policy and engages people in protecting the ocean and its wildlife for future generations.