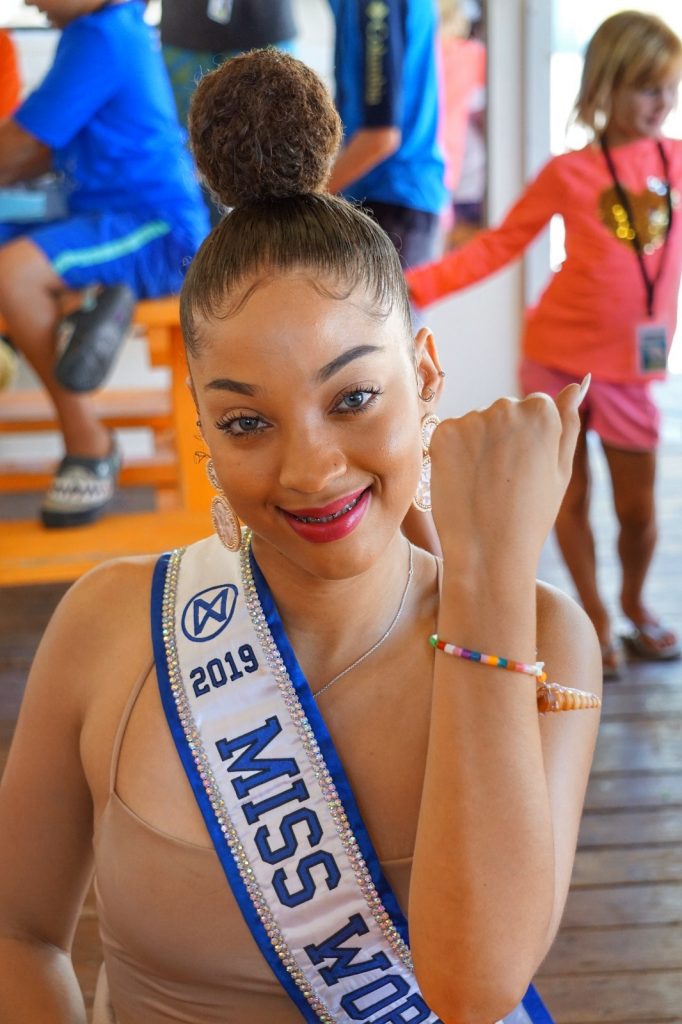 Miss World Bahamas Nyah Bandelier has spent much of her summer getting in touch with her inner child as a way to further promote the importance of reducing our consumption of single-use plastics.
The newly crowned beauty queen was invited to join the youngsters participating in Blue Lagoon Island's SeaVenture Summer Camp once a week after she selected 'plastic pollution awareness' as her platform.
"I chose this platform because I am unable to dream of a day when I won't be able to go to the beach because of plastic pollution.  I love the beach and the Bahamas has some of the most beautiful waters in the world, but when I think about how many species are now endangered, the various marine life that we eat – like conch, grouper, snapper and the list goes on – I cannot dream of a day when we won't be able to enjoy them because they are full of plastic," she said, explaining why she selected the important topic as her focus.
Protecting the environment and educating Bahamians and guests about the importance of doing so is a core part of Blue Lagoon Island's mission, so the company was excited at the opportunity to partner with Nyah and the Miss Bahamas Organization.
"When we learned that Nyah had selected plastic pollution as her platform, we realized immediately that by working together we could help her learn even more about the topic and also that having someone so high profile onboard would help spread the important message to the rest of the Bahamas," said Jessica Robertson, Public Relations Manager at Blue Lagoon Island.
Every Wednesday, Nyah joined the SeaVenture campers on Blue Lagoon Island. She addressed each group to explain why she chose to use her opportunity to focus on this topic, and then they participated in marine debris awareness crafts and activities.
The first week they headed out to Blue Lagoon Island's north shore to participate in a simulated dolphin and whale stranding. They were divided into two teams and taught what steps to take in the event they come across such an animal in distress on the shore.
Nyah, who had no issue rolling up her pants legs to help out said "This is a reality for our marine life – they can get tangled up in fishing line and other debris that we humans throw into the ocean. It felt like the kids and I were on a real rescue mission. They really got into it and we refused to give up until we were satisfied that we had done everything we could to save a whale in this situation."
The following week, they participated in an ocean clean up simulation where they saw first-hand how polluted the ocean is with debris and just how difficult it is to clean it up once the damage has been done.
They were encouraged to dump vegetable oil, peppercorns, spices and other debris into a container filled with water, and then given syringes and cotton balls to try and clean up the water.
"Some of the kids were getting frustrated when one of the camp counselors dumped in more debris, but that showed them what happens in real life – one group is trying to clean up the mess and save the oceans and marine life while someone else comes along and carelessly dumps more garbage in," she said, adding "We all realized just how hard this can be and why we need to take care to prevent any garbage from making its way into the ocean in the first place."
Although as queen, Nyah gets to wear beautiful jewels, another week at SeaVenture Camp she made herself a piece of jewellery with invaluable meaning. They made bracelets out of repurposed plastic grocery bags and plastic beads to wear as a constant reminder of why we need to reduce our plastics consumption and keep it out of the ocean.
Nyah appreciated the opportunity to learn more and make an impact on the environment by teaming up with Blue Lagoon Island.
"I know that Blue Lagoon Island is very big on promoting the conservation of the environment. Every time I go over to the island I see evidence of that," she explained.
"Blue Lagoon has been around for 30 years and it just goes to show that we have companies that do care and want to take the initiative. I really applaud Blue Lagoon Island for the efforts it continues to take and I look forward to the opportunity to work with them again."
Nyah and the Miss Bahamas Organization have already committed to participating in the International Coastal Cleanup effort being spearheaded by Blue Lagoon Island on September 21, 2019.
For more information on joining Blue Lagoon Island's International Coastal Cleanup effort in New Providence, call 242-359-0278.