Blue Lagoon Island is proud to be Authentically Bahamian. From the ownership, to the staff, to even our animals, this number one rated attraction in Nassau, Bahamas is truly a Bahamian company at our core.
Local Bahamian Ownership
The island has been owned by a local family for nearly 40 years. On October 1, 1979, Ludwig Meister purchased what is officially known as Salt Cay from John T McCutcheon, Pulitzer Prize-winning American newspaper political cartoonist.
McCutcheon and his family had dubbed their private island retreat Treasure Island. Meister renamed it Blue Lagoon Island after the stunning turquoise blue lagoon at the center of the eastern end of the island.
Today, his sons operate Blue Lagoon Island as the number one attraction in the Bahamas, continuing the Bahamian ownership.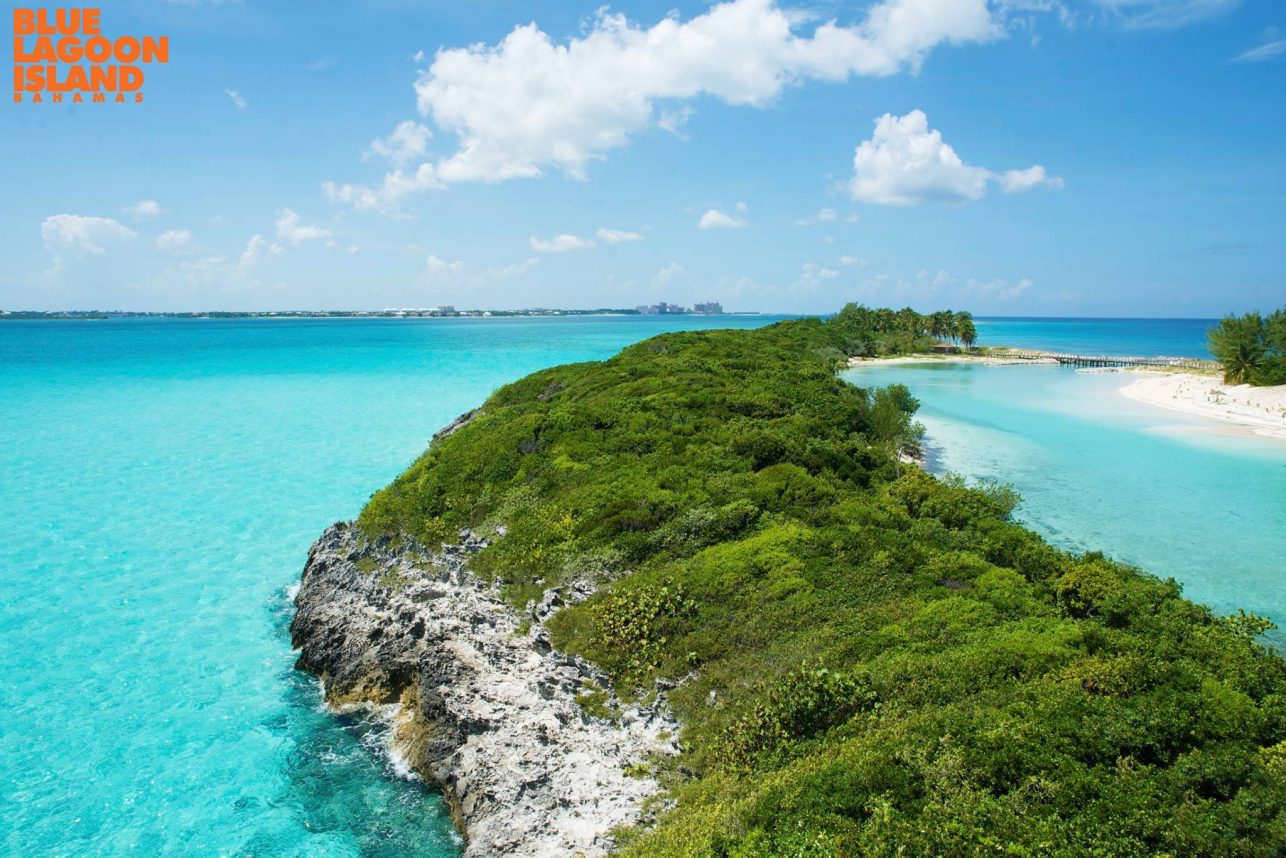 An Act of Compassion in The Bahamas
Meister's original vision for the island – which he could see from his home in Nassau – took a different turn a few years later when he visited the recently closed Nassau Seafloor Aquarium to purchase old nautical themed artifacts.
In a tank at the aquarium were two dolphins. He asked about them and was advised that they too were for sale.
He couldn't put those dolphins out of his mind. He owned property in Abaco and figured at the very least he could give them a comfortable place to live out the rest of their lives.
So he bought them, hired a team to care for them and moved them to Abaco. A few years later they relocated to Blue Lagoon Island and Dolphin Encounters at Blue Lagoon Island was born.
One of those two dolphins, Princess, is still a part of the Blue Lagoon Island beloved animal family. She is 52 years old and in November, 2018, she had a calf, affectionately named Duchess.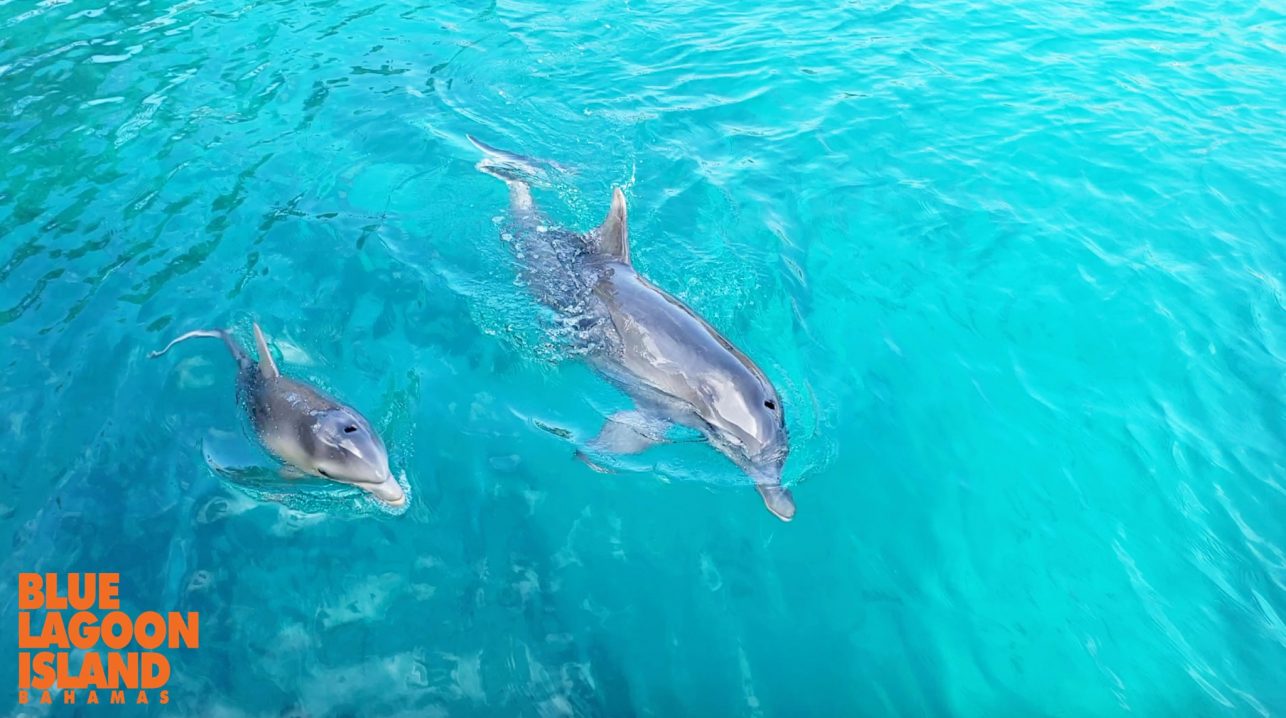 All Bahamian Team
When you visit Blue Lagoon Island, one of the first things you will notice is that our team is Bahamian. In fact, more than 96 percent of the 320+ staff members are Bahamian. This guarantees that with every interaction, you will have an authentically Bahamian experience.
Chat with our team about where in the Bahamas they hail from and even ask them to teach you some Bahamian words and phrases. It's technically English, but we use a strong dialect and some really unique words when talking amongst ourselves!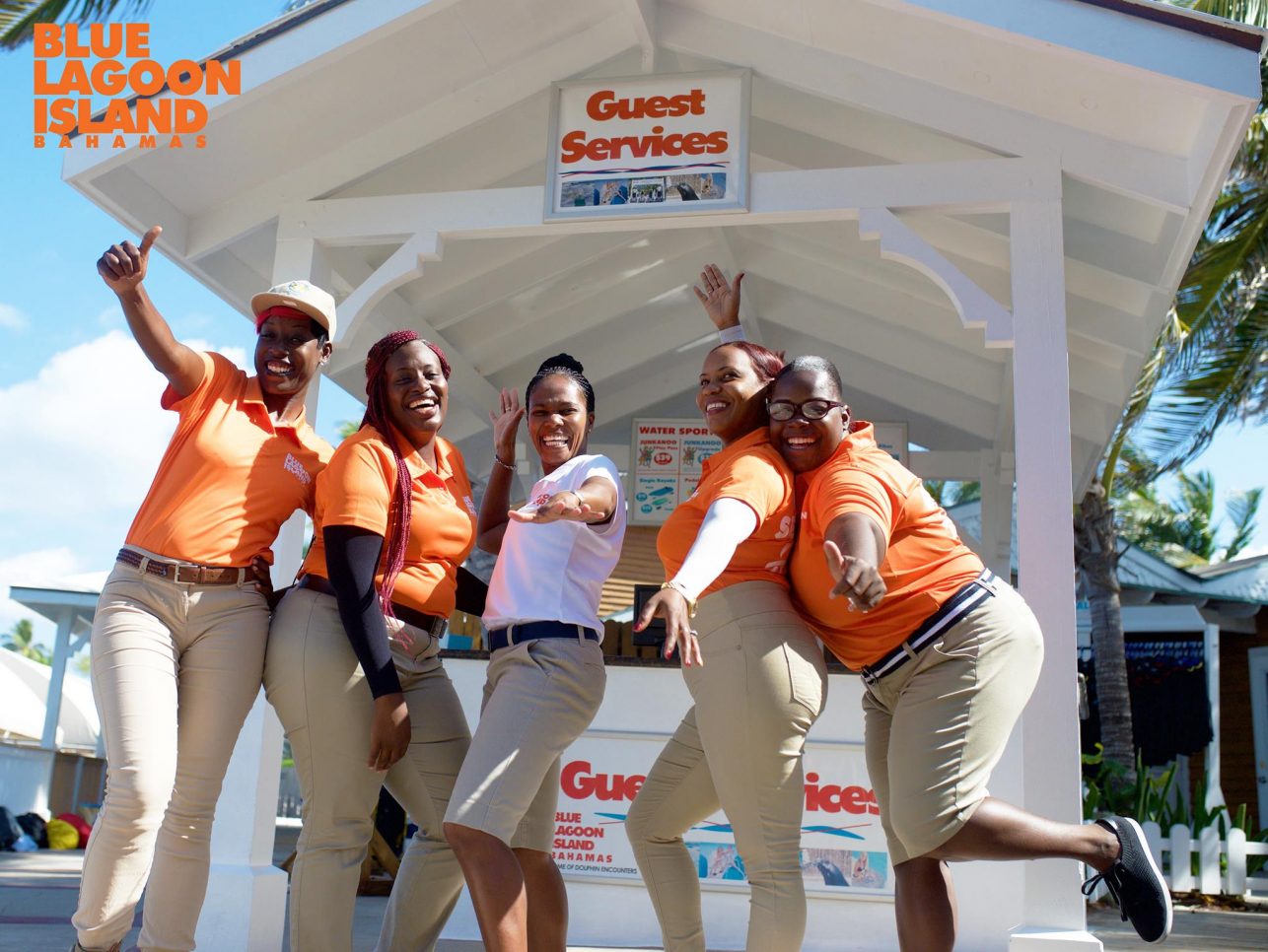 Bahamian Dolphins, Sea Lions and Stingrays
Not only are our humans Bahamian, but most of our animals are too! Twenty-one of our Atlantic Bottlenose Dolphins were actually born at Blue Lagoon Island. The majority of our California Sea Lion squad was born here too! And all of our Southern Stingrays are native Bahamians.
Did you know we also have three rescued raccoons on Blue Lagoon Island? Left Foot, Right Foot and Barefoot were all rescued on nearby New Providence and given a home with the best daily care on our little piece of paradise. Raccoons are not indigenous to the Bahamas, so cannot be released into the wild.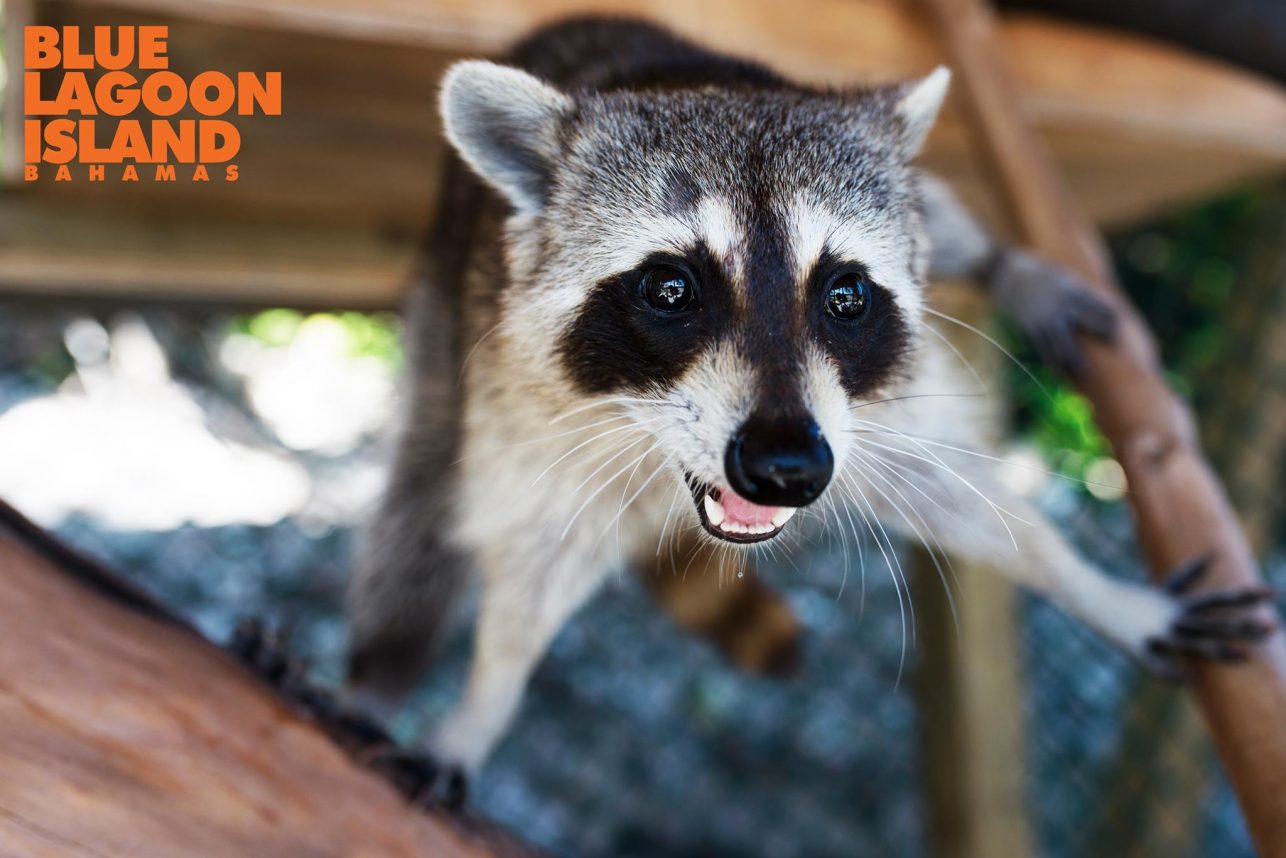 Authentically Bahamian Experience
When you visit Blue Lagoon Island, you will experience some of the area's most beautiful beaches, pristine water and even native flora, fauna and wildlife.
You can also enjoy our Bahamian Village to ensure that even if you spend just a few hours in Nassau, you get an authentically Bahamian experience.
Watch in amazement as conch, tomatoes and onions are sliced and diced to make a delicious Bahamian conch salad at the Conch Shack.
Get your hair braided – island style in the Hair Braiding Shack. Be sure to apply sunblock to your scalp in between the braids before heading back out into the sun.
Take a photo next to the brightly colored directional signpost at the eastern entrance to the Bahamian Village. The names of various other Bahamian islands, as well as a few international destinations, along with the distance in miles to get to them, are painted on repurposed pieces of coconut palms!
Grab some friends and plait the May Pole – it's a Bahamian tradition going back to the days of Emancipation from slavery.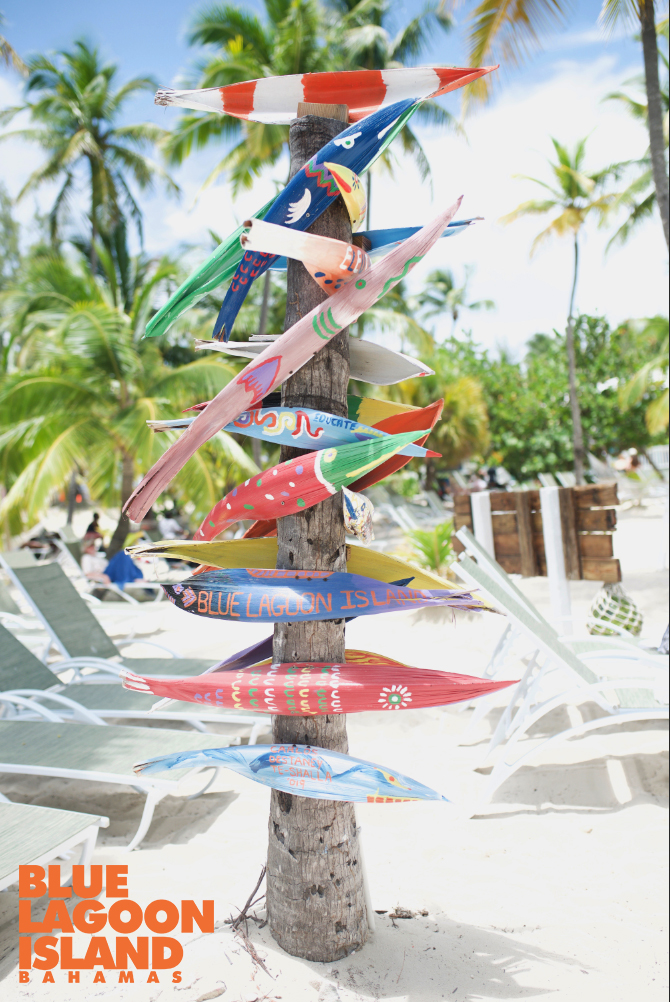 Try Some Bahamian Food
Whether you enjoy our buffet lunch in Shifting Tides restaurant or on one of our VIP beaches or order from the extensive a la carte menu at the bars, you will get a chance to taste some delicious Bahamian food.
Peas n Rice is a Bahamian staple made with pigeon peas. Scoop up a big spoonful to put on your plate. We also enjoy sweet fried plantain, pickled beets and of course, bbq chicken. At the VIP menu, be sure to try the fish – our guests rave about it! From the a la carte menu you can give our favorite seafood – conch – a try. We have conch fritters – battered dough with chunks of conch, sweet pepper and seasoning – and cracked conch – beaten flat to tenderize it, then battered and deep fried. Yum!
And as we celebrate Independence during the month of July, we have added another Bahamian favorite – macaroni and cheese – to the buffet. This baked, creamy, cheesy dish is nothing like the Kraft dinner you grew up on!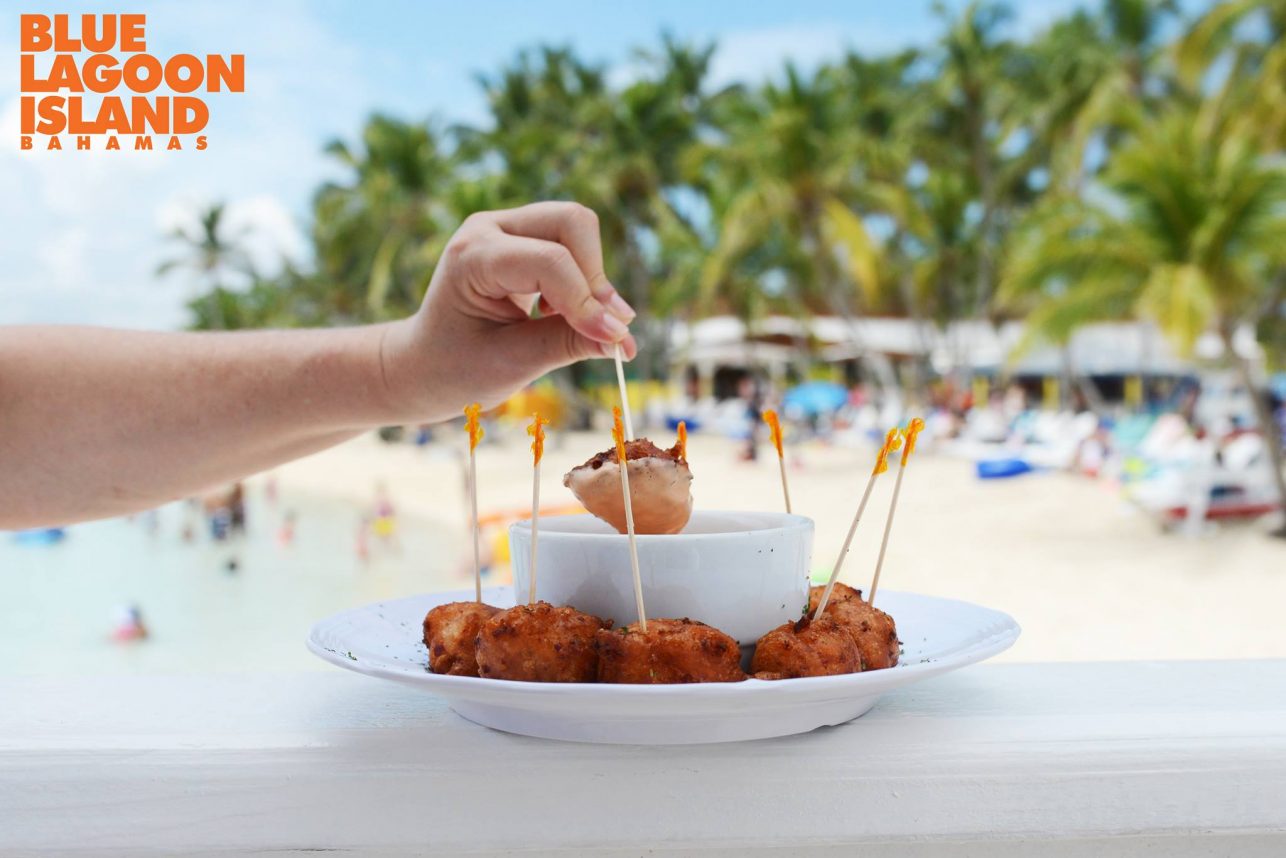 Bahamas Independence 
On July 10, The Bahamas celebrates its 46thbirthday. Throughout this Independence month, Blue Lagoon Island is decorated with the colors of the flag – black, gold and aquamarine, and will have special activities for guests to better understand and appreciate what it is to be Bahamian!