Nearly 500 Abaco school children learned about the importance of conservation and preventing marine debris during a week of distance learning provided by Project B.E.A.C.H. (Bahamas Education Association for Cetacean Health), the non-profit affiliate of Blue Lagoon Island.
Te-Shalla Clarke, Education Supervisor, and Destaney Cox, Education Coordinator, hosted Marine Assembly Programs at Agape Christian School, Cooperstown Primary, Forest Heights Academy, Long Bay Primary, Man-O-War All-Age and Treasure Cay Primary.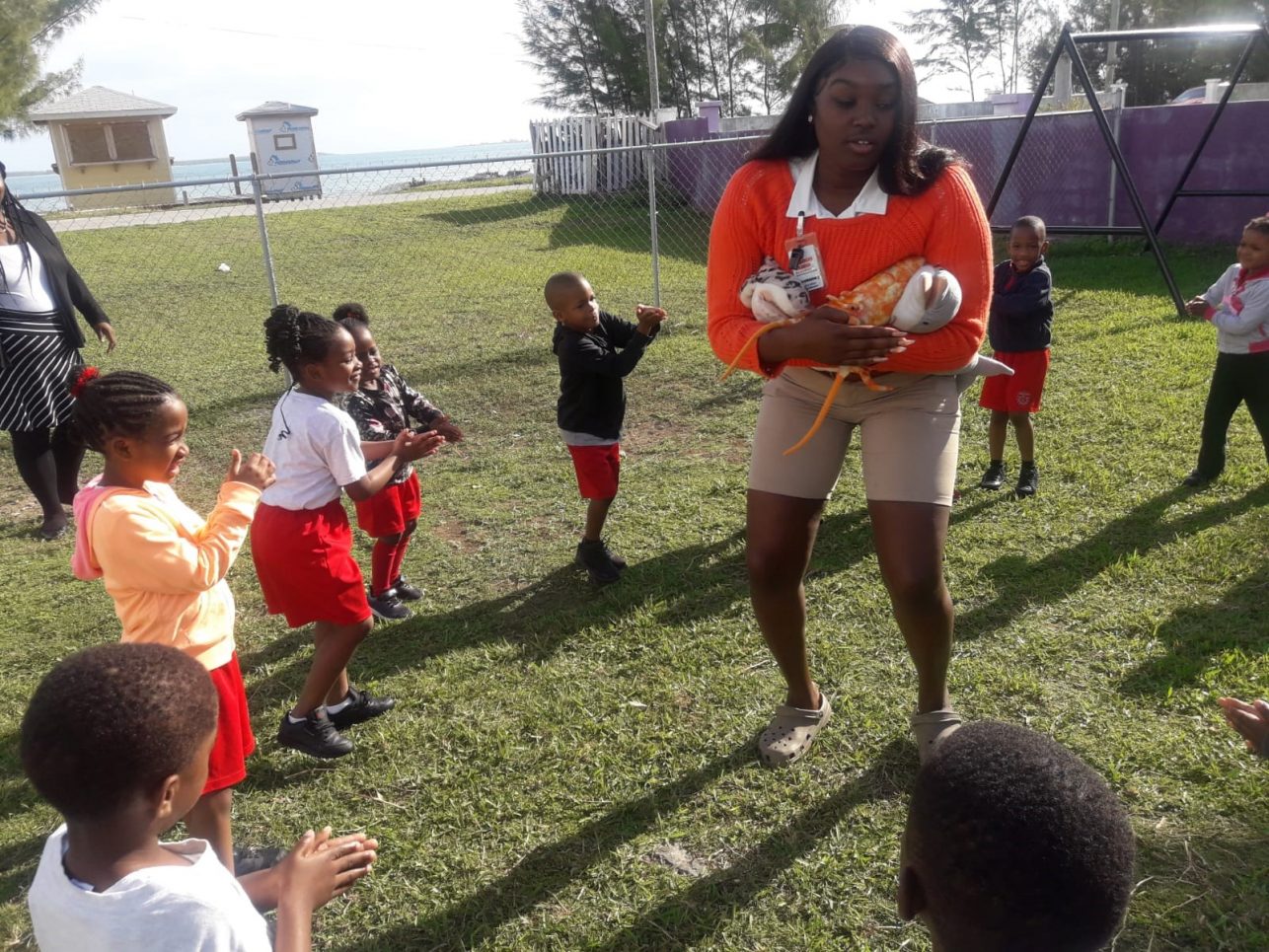 Each year more than 6,000 students from New Providence benefit from the many marine education field trips and outreach programmes offered by Blue Lagoon Island through the Education Department. To ensure that Family Island students are not left out, the team visits one or two islands each year.
Throughout the week, younger students learned about conservation, marine debris and how taking care of the environment helps them in turn take care of marine animals. Educators captured the students' attention using a combination of posters, puppets, hands on materials and specially designed marine debris activities.
The team left follow-up art projects and games, puzzles and coloring page activity kits with all of the teachers to ensure the learning continues beyond the assembly visits. Teachers were also provided full resource DVDs containing reference materials for ongoing education.
For the older students, the Project B.E.A.C.H. team added information about the many marine career opportunities that exist.
"The students in Abaco were already quite knowledgeable about many of these topics. Lots of the teachers there are already incorporating marine education and conservation into their curriculum," Te-Shalla explained, "It's definitely easier when this kind of material is already included in the classrooms, because the students are starting from a place of awareness and we are just adding to it and helping to connect the dots."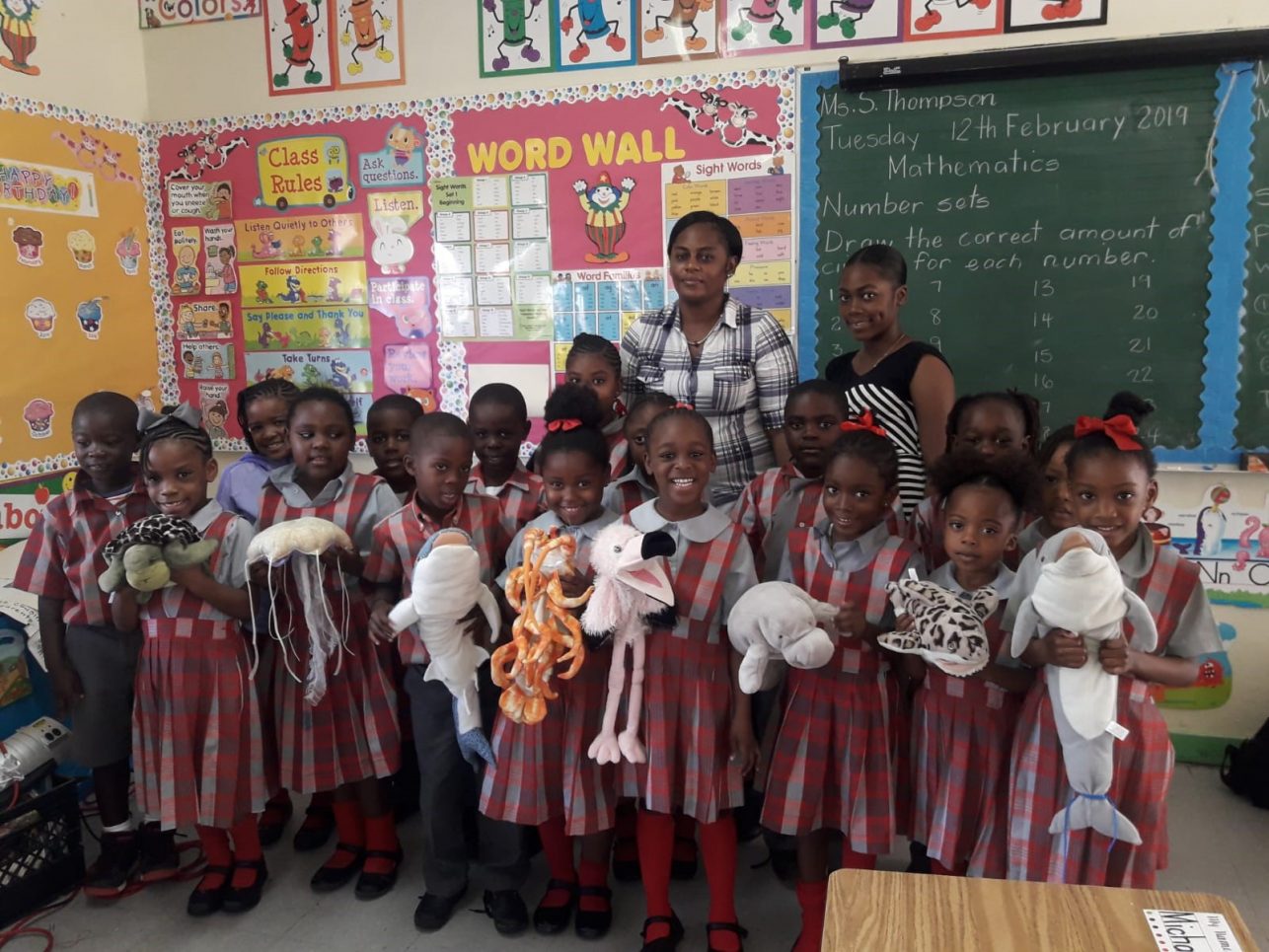 The education programs are always adapted to meet the specific needs and realities of the islands and schools being addressed.
Destaney explained that the type of marine debris found in Abaco and many other family islands is mostly washed in from ocean sources while in the waters off New Providence marine debris tends to be mostly picnic-related trash.
"We are able to show them that even though the trash impacting their islands is not necessarily something they create, it is still their problem and something they need to be concerned about," she explained.
During the week in Abaco, the Project B.E.A.C.H. team debuted its Distance Virtual Learning component which will open up learning opportunities for students throughout the country where technology is being installed.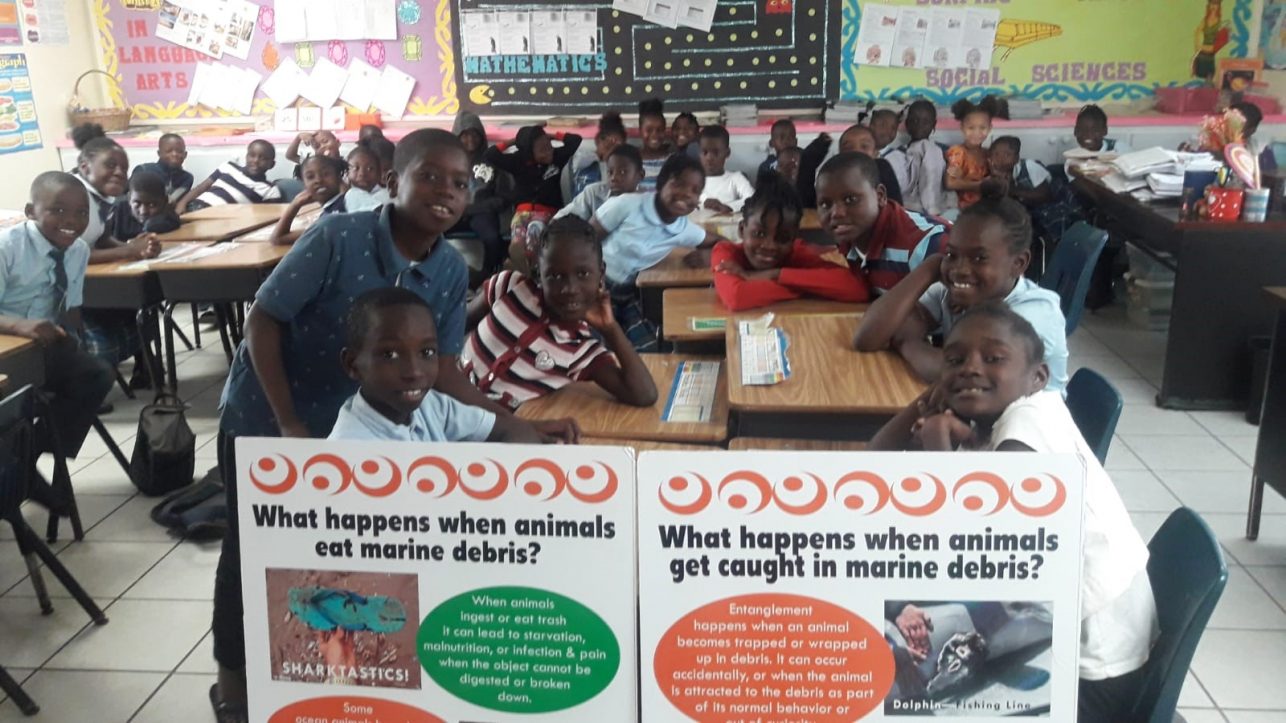 "When the students see a dolphin or sea lion, they light up. Imagine us being able to provide a live 'Ask the Trainer' session where they are able to ask a trainer sitting there with one of the animals at Blue Lagoon Island a question from their classroom in Cat Island. Now we've got something amazing," Te-Shalla said.
The Abaco students were all encouraged to participate in this year's Marine Education Poster Contest. To cultivate awareness of the importance of properly disposing of all garbage and encourage Bahamians to reduce, reuse and recycle, this year's contest challenges kindergarten through grade 12 students to creatively depict the topic "Marine Debris – Trashing our Treasure."
Dolphin Encounters – Project BEACH conducts numerous educational and outreach programs. To participate in a program or learn more, contact Education at 359-0278 or 363-7180 – ext. 303 or education@dolphinencounters.com.
About Blue Lagoon Island
Since 1989, Dolphin Encounters, located on idyllic, Blue Lagoon Island, Bahamas, has offered visitors from around the world a unique opportunity to interact and learn about marine animals in an unparalleled all-natural marine habitat. Home to native Atlantic Bottlenose dolphins, California sea lions, and native Southern stingrays, this leading attraction continues to set the standard for marine animal interactive programs in the world.
Dolphin Encounters at Blue Lagoon Island became the first facility in The Bahamas to achieve certification by the American Humane Conservation program in 2018 and exceeds national and international requirements for having marine animals in professional human care and is also accredited by the Alliance of Marine Mammal Parks and Aquariums as well as the International Marine Animal Trainers' Association.
Owned and operated by a local family, Blue Lagoon Island is a private island experience that provides guests with authentic, eco-friendly, sustainable, Bahamian experiences through their educational animal programs, Nature Walking Tours, Segway Safaris, beach day programs, and through educational programs offered yearly to thousands of students. To learn more about Blue Lagoon Island visit www.DolphinEncounters.com.