Nearly 100 young Bahamians joined Blue Lagoon Island's Project BEACH to pick up thousands of pieces of trash this weekend during the New Providence instalment of the Ocean Conservancy's 35th annual International Coastal Cleanup 2021.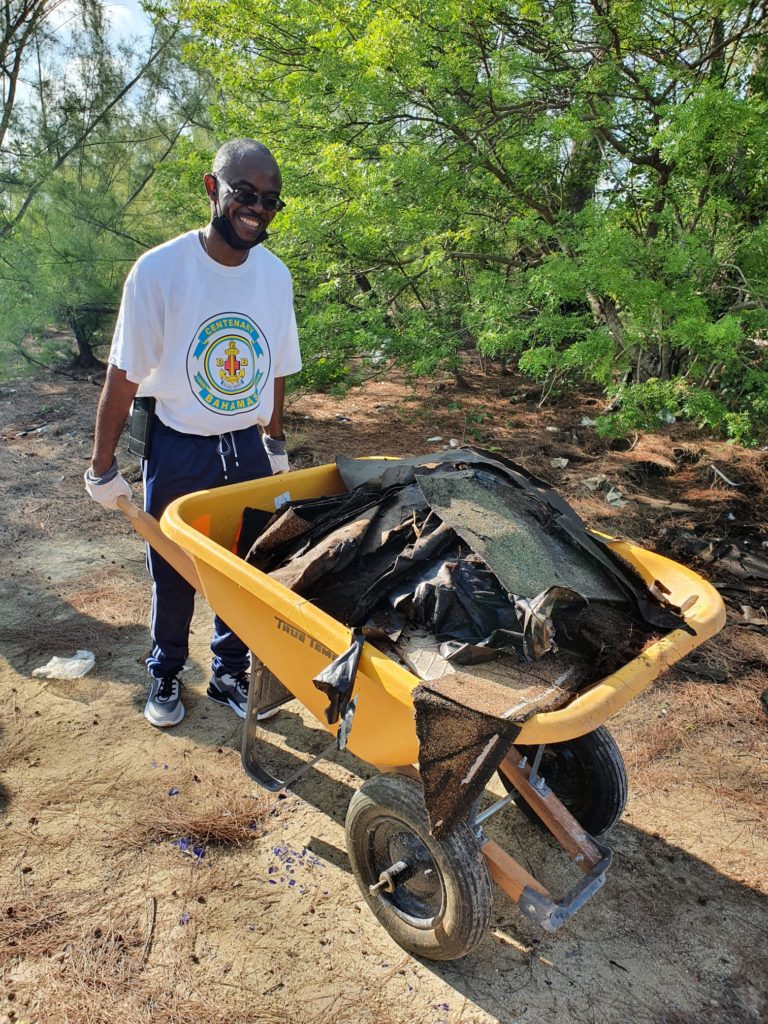 Volunteers from all over the world gather every year along coastlines and waterways to participate in the International Coastal Cleanup®. Many walk, others set out on boats and thousands more don scuba gear to seek trash below the water's surface.
This year, the New Providence team headed into Coral Harbour to clean up the garbage left behind and deliberately dumped alongside canals in vacant property that is used by the community for recreation and exercise.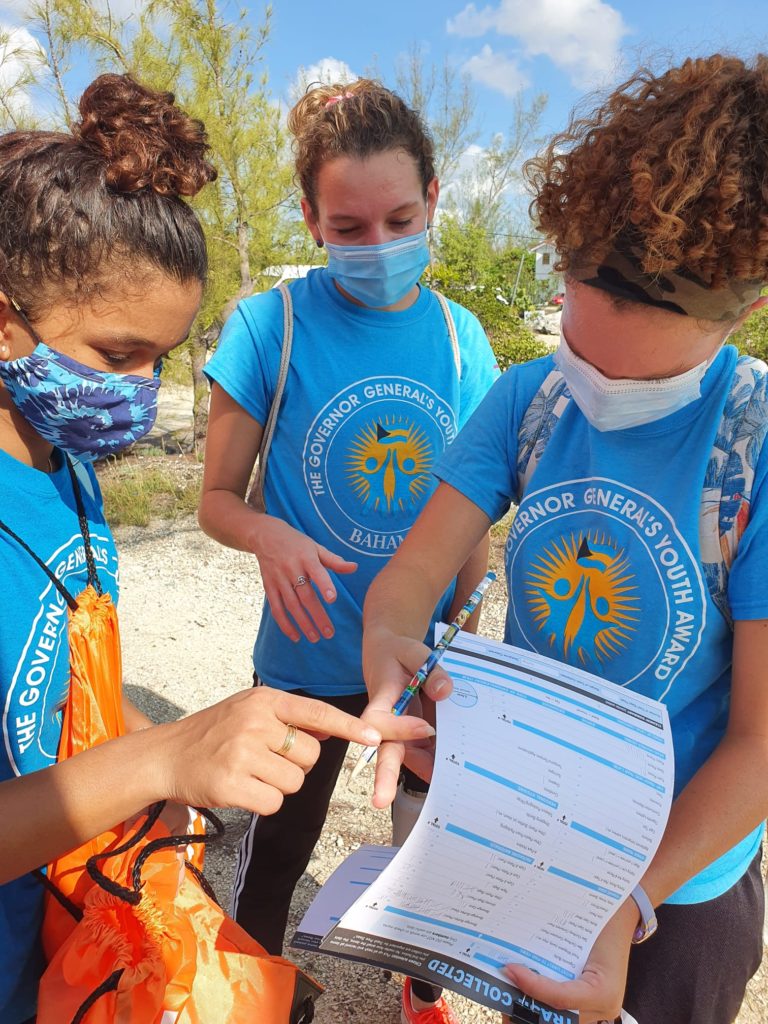 The local event was organized by Blue Lagoon Island's non-profit Project B.E.A.C.H.
Caribbean Bottling Company, local producer of Coca Cola was onboard again this year as the major sponsor, providing beverages to keep participants hydrated as well Coca Cola gear. The Caribbean Bottling Company team also assisted by using their truck to transport bags of heavy trash from collection points to the dumpster. Coca Cola is the international lead sponsor of the global event.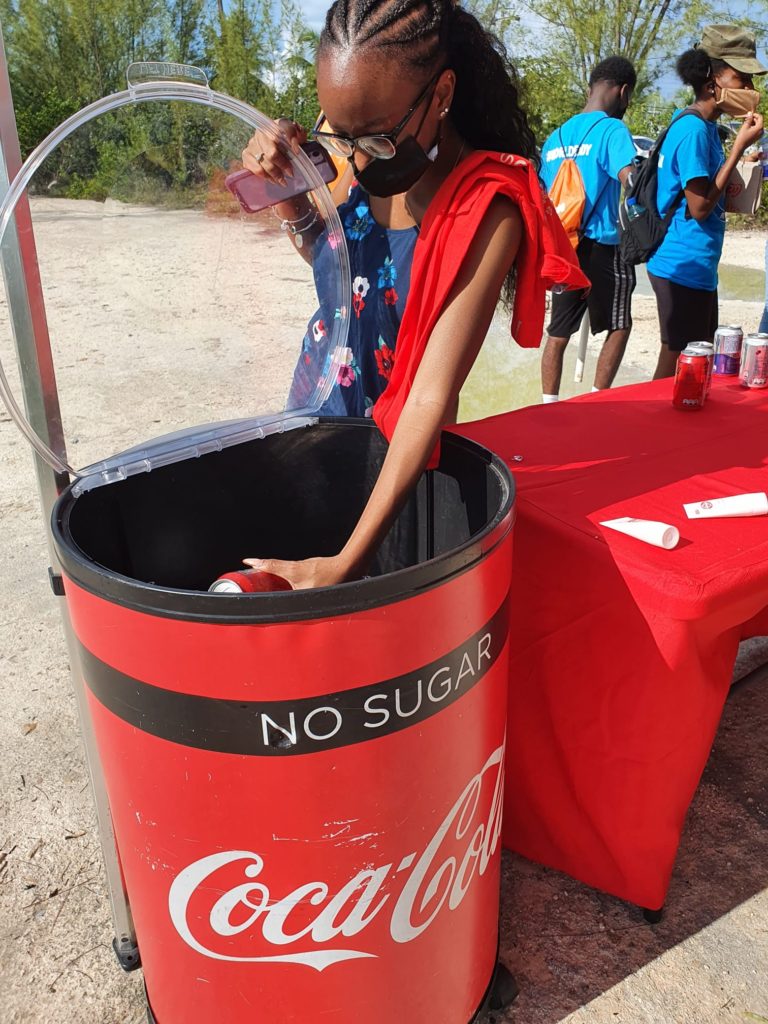 A number of local community service and student enrichment programs pitched in to help with the Coral Harbour cleanup effort. The students and young adults participating represented the Governor General's Youth Award, a number of Boy's Brigade companies, Rotary Club South East, Rotaract Club South East Centennial, Rotaract University of Bahamas and Visionaries Toastmasters.
While quite a lot of garbage collected at this vacant residential site appeared to have been left behind by people who came to the area to relax or gather with friends and family, much of it was clearly deliberately transported to the area and dumped.
An overwhelming amount of construction material had been discarded at this particular site. This surprised the Boys Brigade volunteers who ended up spending their entire clean up in a single small location because of the amount of shingles and other construction debris they stumbled upon.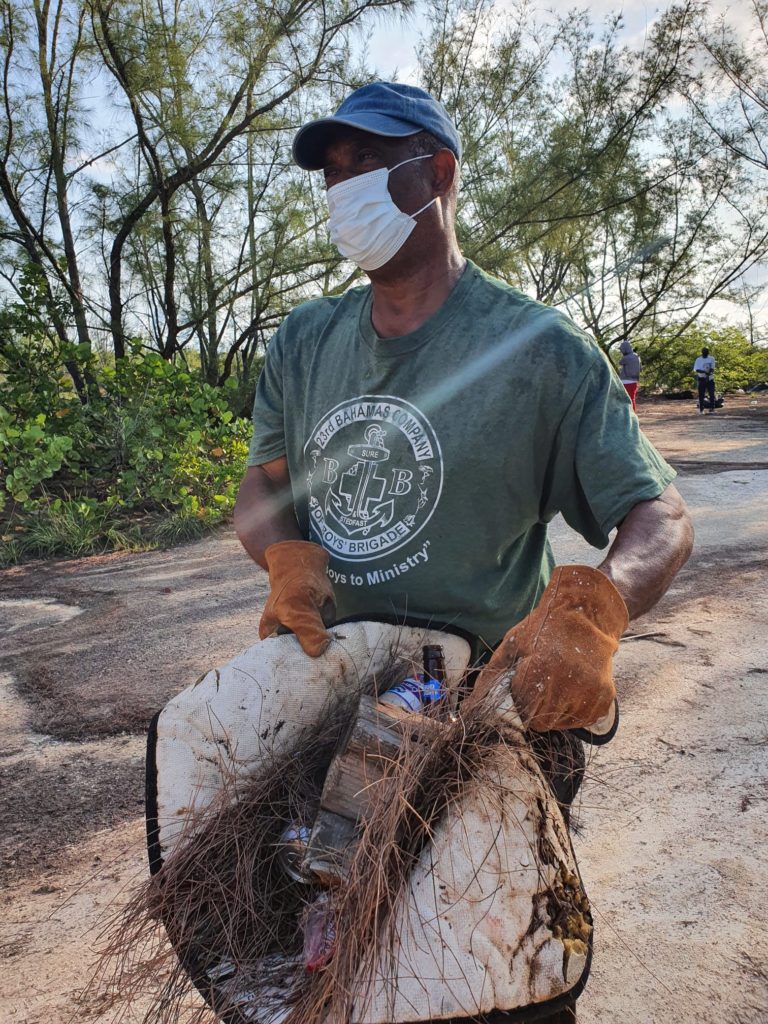 "Just spending an hour out here the boys could not believe the amount of garbage they found in the back here. They were asking who we think dumped it and we said it only could be adults. In fact, we are sure one of the offenders must own a construction company as we've been here from the start and all we are picking up is construction material. So far we have already dumped about 30 bags of it and we still have more to pick up. We had to go and get a wheelbarrow and shovels and a rake because we could not pick it all up with our hands. It's so sad to see that adults are doing this and have no respect for our environment," said Lieutenant Valerie Butler, National Secretary of the Boy's Brigade.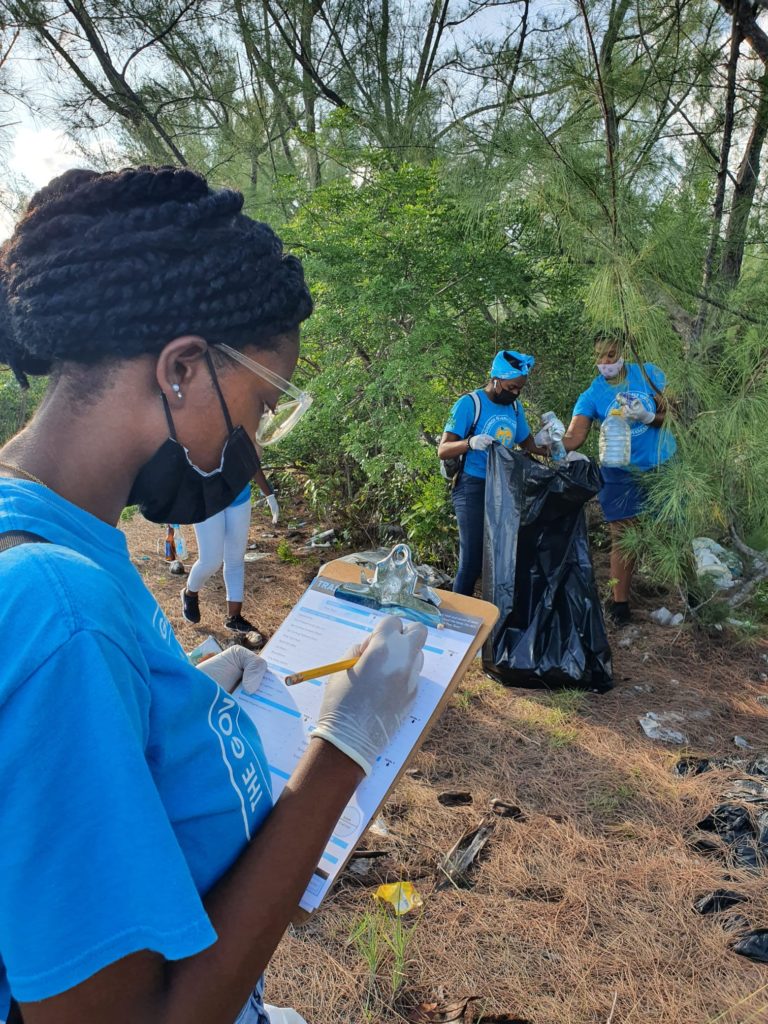 Sixteen year old Boys Brigade member Shane Oliver had choice words to say to the offenders, saying "It's actually pretty horrifying and disgusting. I really thought people had more class to not leave their garbage out anywhere they feel like. It's destroying the water and our country is built on tourism and if the water is dirty, the tourists won't want to come so this kind of behavior is actually destroying our economy."
As groups gathered garbage, a critical component of the exercise was the recording of what was actually collected. This data is submitted to the Ocean Conservancy for a global tally and database.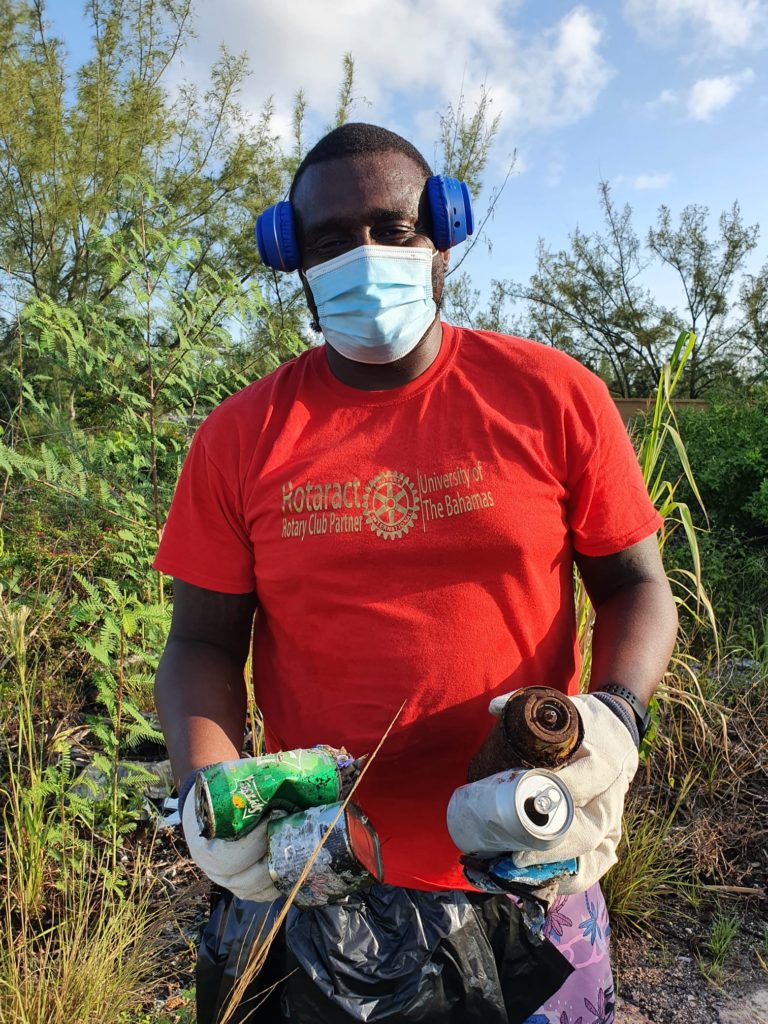 The top ten debris items collected in Coral Harbour on Saturday were construction material (1,160 pieces), glass beverage bottles (473), plastic beverage bottles (444), beverage cans (393), pieces of glass (383), pieces of plastic (184), plastic bottle caps (168); plastic bags (103), paper bags (90) and snack food wrappers (87).
The students also came across an alarming number of discarded appliances, but were only able to transport a few of them into the dumpster that was provided by Bahamas Waste.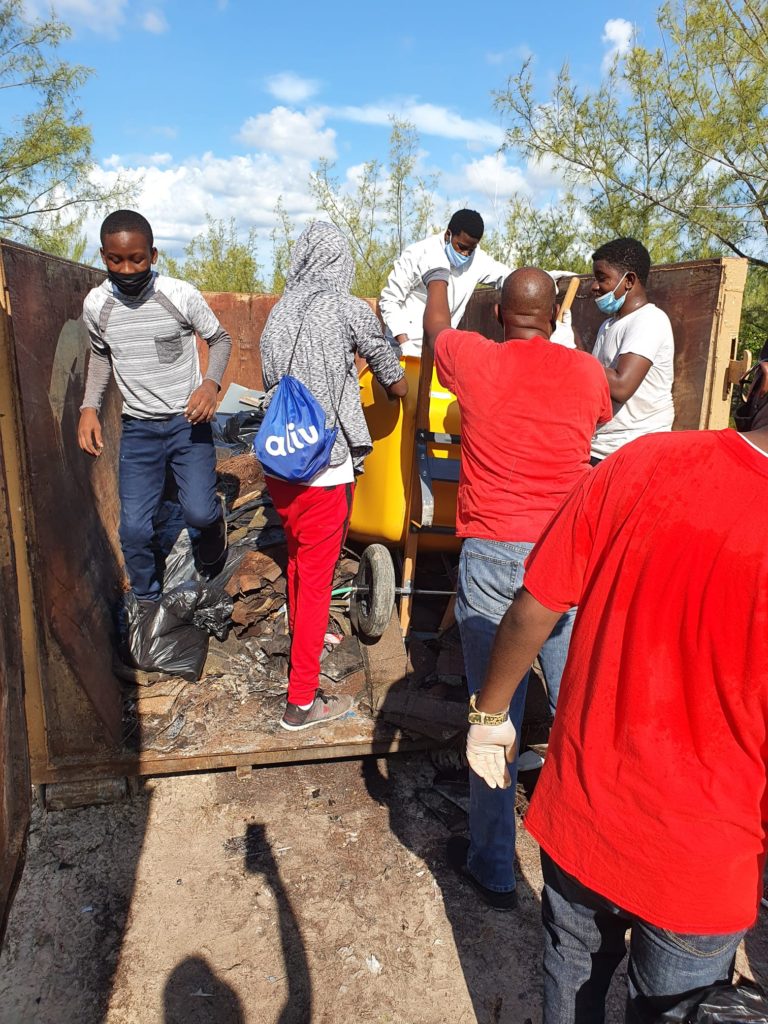 Another sponsor was Bahamas Wholesale Agencies who donated personal hand sanitizers to help keep everyone safe and clean.
The local event was coordinated by Blue Lagoon Island Education Supervisor Te-Shalla Clarke, who said "It was awe inspiring to see our students and service organizations come together for a common good and having fun. The atmosphere was one of excitement, determination and accomplishment, knowing we are making a difference by being an example. The teaching of conservation and preservation to bring about change is a slow and sometimes disappointing process, however, when the change starts to happen and trust me it will, all of the disappointments become well worth it."
Irwinique Storr, president of Toastmasters Club 754AAA1 was particularly disturbed that people are choosing to dump their trash in a neighbourhood.
"I say to the folks doing this dumping – if I were to come from my area and dump my garbage in their yard, they would be highly offended. People have to remember that although this property may look vacant, it still belongs to someone and is a part of our wider environment. This is an area that the surrounding community uses for recreation and it shouldn't be treated this way. Our natural resources are important to all of us so we all need to be mindful and take care of them," she said.
In fact, Jacquelyn Beneby, the president of the Coral Harbour South Neighbourhood Watch Association joined in the cleanup effort and thanked Blue Lagoon Island and all of the volunteers for helping them get the area cleaned up as it has been an ongoing battle for the community.
"The Coral Harbour residents use this area for our dogs, for our walks in the morning, so we need the area to be kept in a presentable and healthy manner. You guys coming out here today is great. We've been asking to have the area blocked off to prevent vehicles from being able to come over and dump. We know it's people dumping here and they just don't care," she said.
The International Coastal Cleanup engages people to remove trash and debris from the world's beaches and waterways, to identify the sources of debris, and to change the behaviours that cause pollution. The event is not just about pollution cleanup, it is about pollution prevention.
International Coastal Cleanup focuses on educating and empowering people to become a part of the marine debris solution.
"Coca Cola has supported ocean and waterways cleanup efforts for many years around the world," said Karla Wells-Lisgaris, Caribbean Bottling Company brand manager, "this particular event drives home the important message of keeping our environment clean."
Blue Lagoon Island's Project B.E.A.C.H. holds beach cleanups throughout the year. Contact Te-Shalla Clarke at 359-0278 or email education@dolphinencounters.com for more information on how to participate or support these efforts. To learn more about the International Coastal Cleanup visit www.oceanconservancy.org.
Dolphin Encounters, located on idyllic, Blue Lagoon Island, Bahamas, offers visitors from around the world a unique opportunity to interact with and learn about marine animals in their all-natural habitat. Home to native Atlantic Bottlenose dolphins, California sea lions, native Southern stingrays and Bahamian nurse sharks, this leading attraction continues to set the standard for marine animal interactive programs in the world. Blue Lagoon Island is American Humane certified and is a Travelife Partner. Blue Lagoon Island also became the first Bahamian business to successfully obtain the Safe Travels accreditation for its COVID-19 safety protocols. Owned and operated by a local family, Blue Lagoon Island is a private island experience that provides guests with authentic, eco-friendly, sustainable, Bahamian experiences through their educational animal programs, nature walking tours, Segway safaris, fun-filled family beach day and adults-only VIP beach day.
Blue Lagoon Island is Authentically Bahamian, Sustainable at Heart.
To learn more about Blue Lagoon Island visit www.DolphinEncounters.com.