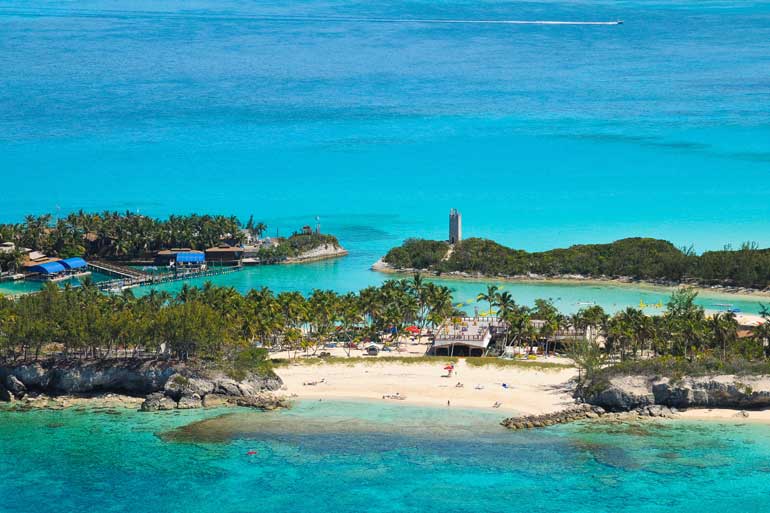 About Dolphin Encounters on Blue Lagoon Island, Bahamas
Dolphin Encounters is one of the top tourist attractions in The Bahamas and is owned and operated by a local family. It began in 1989 when two Atlantic Bottlenose dolphins were rescued from an aquarium that closed in Nassau, Bahamas.
In 2006, our beloved marine mammal family expanded to include six California Sea Lions that had lost their home and habitat at Marinelife Oceanarium in Gulfport, Mississippi during Hurricane Katrina. Once again, Dolphin Encounters expanded creating a large, all-natural habitat for the rescued five females and one male sea lions.
Dolphin Encounters Ltd. is a member of the International Marine Animal Trainers Association, (IMATA) the largest organization of its kind. In 1997, Dolphin Encounters also became a member of the prestigious Alliance of Marine Mammal Parks and Aquariums, confirming its status as one of the top marine parks in its field. Dolphin Encounters received the prestigious Bahamas Excellence in Tourism Cacique Award in 2005 for its outstanding educational interactive programs. During its short history, Dolphin Encounters has transformed itself from a dolphin rescue project with two dolphins and three employees to one of Nassau's foremost tourist attractions. Our natural seawater lagoon has facilitated a very successful breeding program.

The facility offers a multitude of special education and marine conservation programs to local schools and underprivileged children. Dolphin Encounters has made the lifetime dream of many terminally ill children come true by participating in the Make-A-Wish Foundation and other similar organizations. Our facility also participates in research programs involving our dolphins and dolphins in the wild to help scientists learn more about marine mammals.
In 1996, Dolphin Encounters was chosen by Universal Studios to work on the movie "Flipper" starring Paul Hogan and Elijah Wood. The company provided three dolphins – to play the famous aquatic star. Dolphin Encounters was also involved in the making of several well-known commercials for companies such as H&M, Sony, Visa, Kipling as well as several music videos. Some of our dolphins also starred in the Mary Kate & Ashley adventure film, "Holiday in the Sun." Chances are you have also seen the dolphins of Blue Lagoon Island. They have been featured on CBS, NBC, E!, CNN, ESPN, MTV, QVC, Nickelodeon, CW, Oxygen, many local ABC, NBC, and CBS affiliates , the BBC, SKY News, VOX TV and many other international television and radio shows and networks, magazines and newspapers.
A few of our sea lions are also celebrities and have starred as the lead in the movies "Andre", "Slappy and the Stinkers", and various commercials and magazine shoots.
Visitors of all ages and from all over the world have come to the Bahamas and participated in our dolphin interactive programs and to relax on the sandy beaches of beautiful Blue Lagoon Island. Dolphin Encounters provides this rare opportunity in a safe environment with an emphasis on education and entertainment. Our main objective is to let guests interactively experience bottlenose dolphins and sea lions in their natural habitats and to heighten their awareness and understanding of these truly magnificent animals and similar species. Not far from Nassau, Bahamas,come visit us on magnificent Blue Lagoon Island or just learn more about the marine environment and the marine mammals under our care through our Education pages.