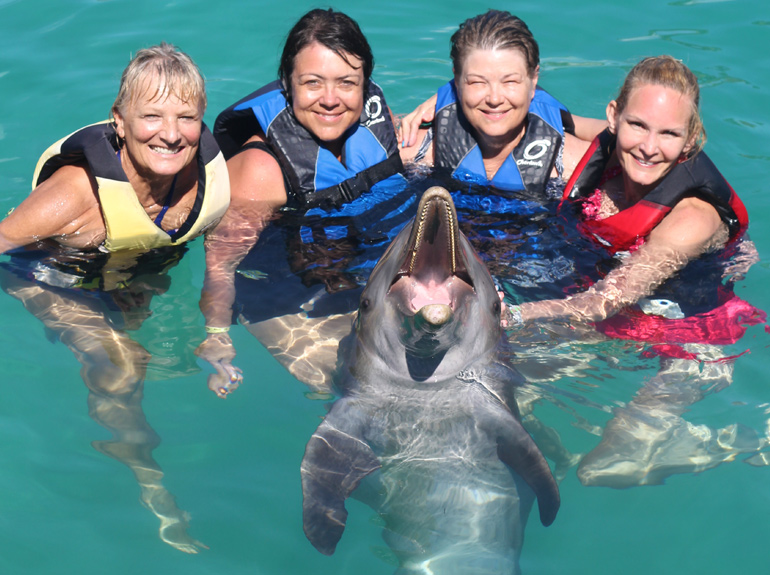 Dolphin Swim
Price

$190 per person. Residents call 363-1003 for local rates.

Times

Duration

30 minutes

Total Length

3 - 3.5 hours

*plus 12% Value Added Tax
Includes round-trip transportation by large catamarans to Blue Lagoon Island
Dolphin Swim Overview
In the Dolphin Swim Program, you receive the unique opportunity for playful, educational interaction with these wonderful animals in the beautiful turquoise waters of the natural ocean lagoon. Your program to swim with dolphins begins with a fun orientation, briefly covering the natural history of dolphins, animal training techniques, ocean conservation and Watchable Wildlife Guidelines.
Once in your lifejacket, experience the joy of a dolphin kiss and fall in love with their gentleness as you hug a dolphin in your arms. Dance and sing with our stars then marvel at the dolphin's strength as you are propelled across the lagoon in the finale behavior — the footpush! In this program, trainers focus on allowing everyone to enjoy a high degree of interaction with the dolphins, and at the same time, teach you about these amazing animals in their natural habitat. Our professional photo & video staff will capture your swim with the dolphins, so that you will have a chance to take home incredible souvenirs of your unforgettable experience.
If you're looking for things to do in the Bahamas with kids and you want to experience the best place to swim with dolphins, look no further than Dolphin Encounters.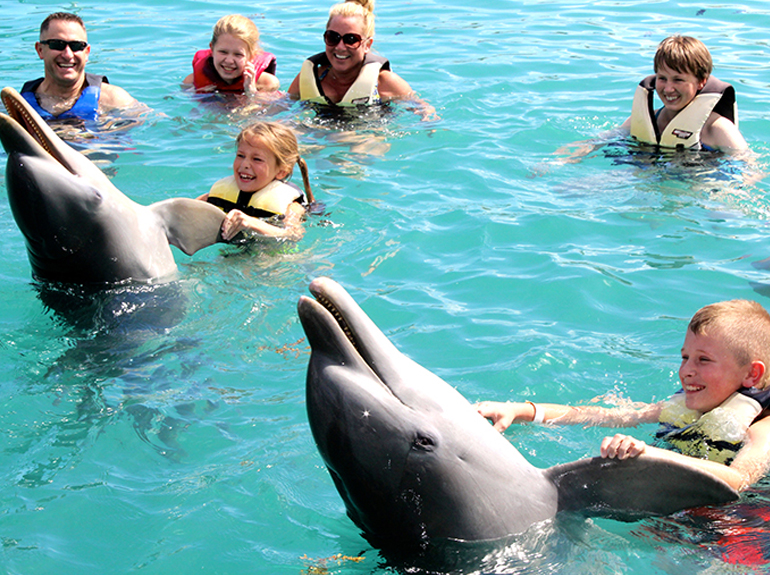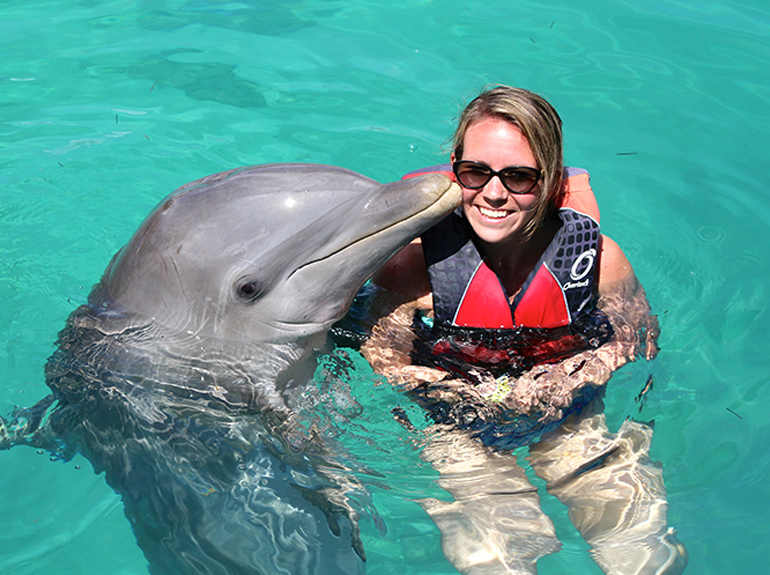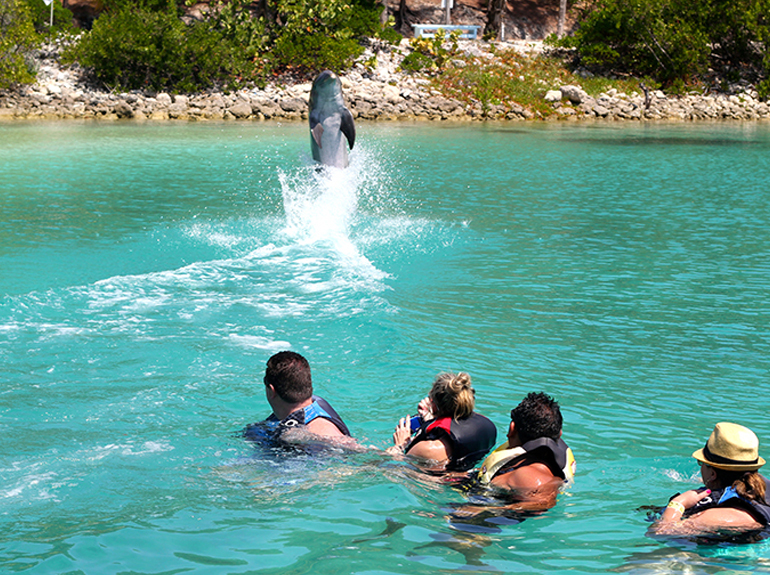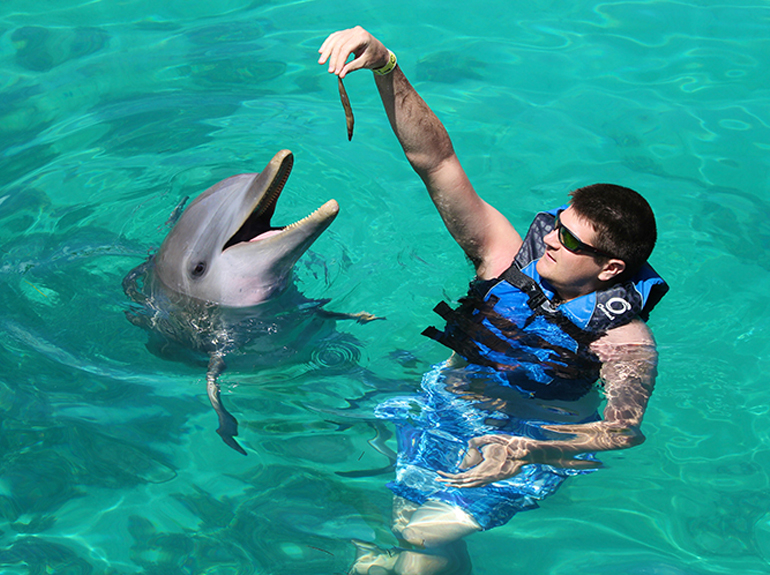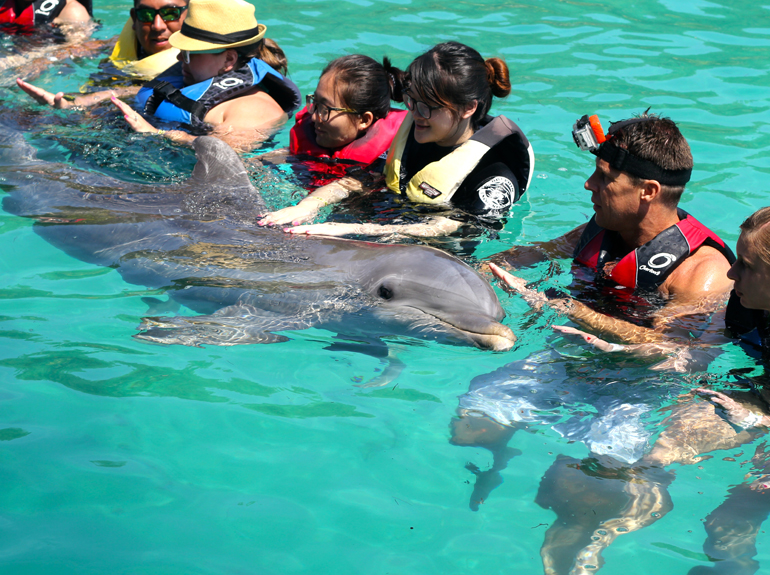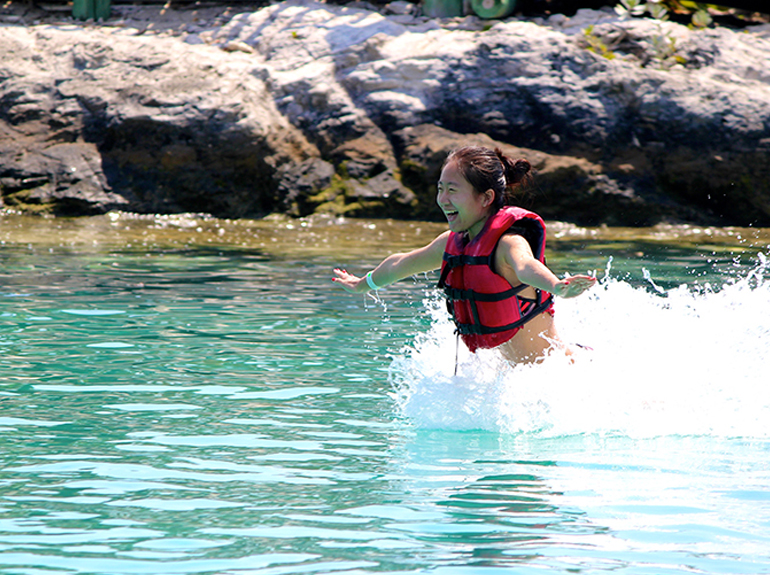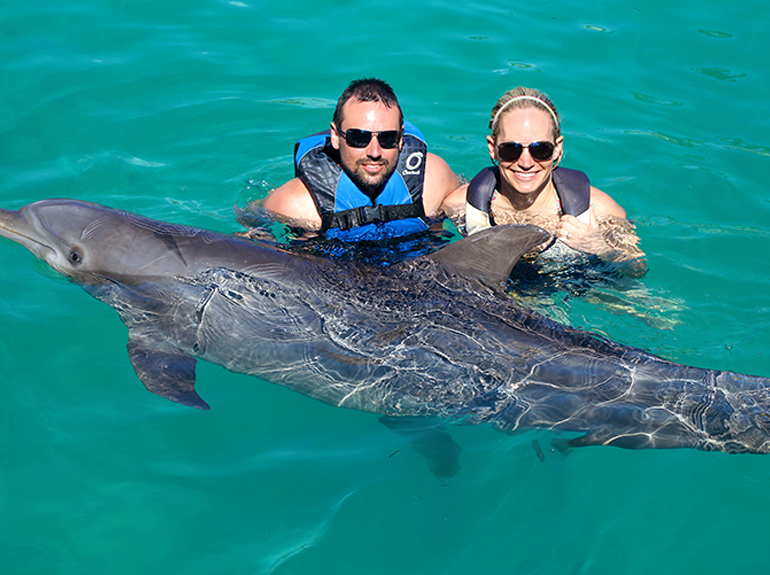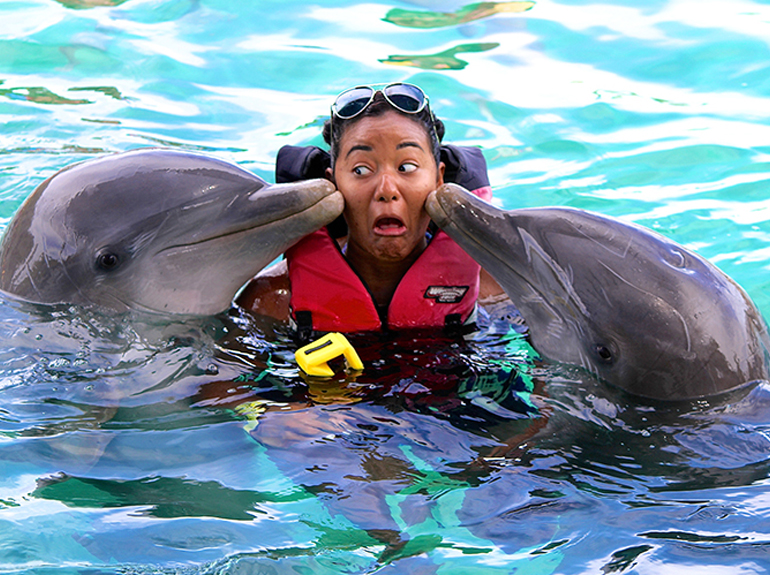 Please note:
Guests ages 6 to 12 must be accompanied (in the water) by a responsible, paying adult with a ticket for the swim. Parent or guardian must be at least 18 years of age.
Guests ages 13 to 17 must be accompanied by an adult (with any paid ticket) to sign the liability waiver.
Guests must have the ability to go up and down ladders to access platform.
Pregnant women are not allowed in swim program.
Guests age 5 or younger are not allowed in swim program & may observe for free if attended on the dock by a responsible parent or guardian with an observer ticket.
To ensure the safety of our animals, personal cameras (including those in cell phones or other electronic devices) cannot be used during your animal program.
Payment is required at the time of booking.
Vouchers purchased from tour companies must be redeemed at the time of check-in to be valid.
No refunds will be issued for cancellations made less than 24-hours prior to the reserved program. Groups may require a longer cancellation period depending on size.
No refunds will be issued for guests that do not meet the program requirements for age, physical fitness, maternity reasons or who violate company policies.
We go rain or shine! No refunds for bad weather unless Dolphin Encounters cancels the excursion.
Dolphin Encounters reserves the right, under certain circumstances, to omit specific behaviors or interactions from the program.
We will provide assistance for manual wheelchairs including providing wheelchair access into the water (with our waterproof chair) for the Dolphin Encounter program. For boating purposes, motorized powerchairs and non-collapsible wheelchairs are not allowed on our boats.
No scuba equipment is permitted on the island.
Blue Lagoon Island is a no drone zone.
If you purchased your ticket online with a credit card, please note that you must bring that card and a government issued ID for proof of purchase upon check in.