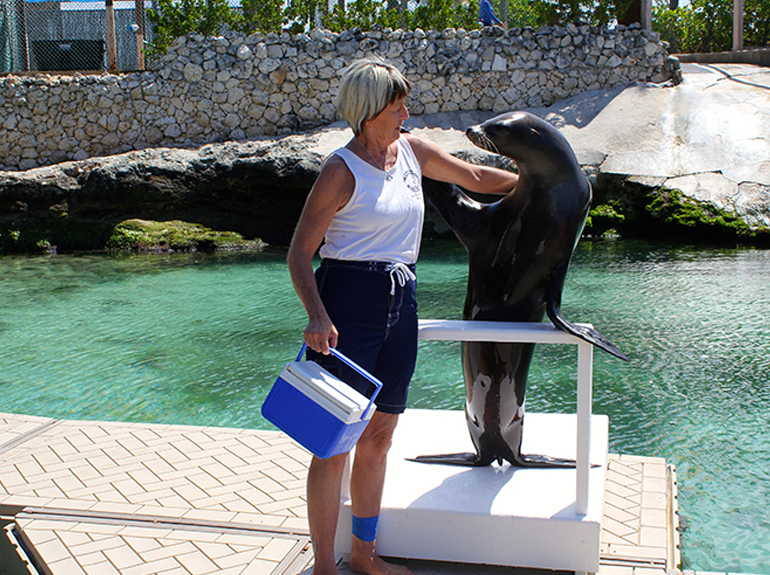 Do You Want to be an Animal Trainer?
There are many avenues to choose among marine careers: animal training, education, research, veterinary care, stranding networks, conservation groups and wildlife studies to mention just a few.  As you explore your opportunities to work in one of these marine fields, you may find that working with marine animals becomes your ambition and goal.
A career as a marine mammal trainer is both challenging and rewarding.  Like many other professions, it is a very competitive field, requiring a great deal of persistence and dedication.  Discover some of the skills and education you should pursue if you choose to follow this career path.
Animal Trainer FAQ's
Do you have questions for our trainers?  Or a school project on this marine career?  Read some of our most common questions about life as a trainer at Dolphin Encounters.  If you have additional questions, email them to us!
What are the duties in a trainer's job?
Animal trainers are responsible for many aspects of care for their animals, not just the training.   This includes preparing food, cleaning exhibits or pools, creating toys, assisting in veterinary care and maintaining detailed records.  Trainers are also marine educators, providing public presentations to anywhere from small groups to very large audiences, in order to share the incredible abilities and personalities of their animals with kids and adults.
What is the work schedule of a trainer?
Taking care of animals is generally a long day.  It starts early as we have to prepare the food for the animals, clean our respective exhibits and get ready for our guests.  Training sessions and programs are spread throughout the day so the animals can digest their meals and participate in a variety of interactions.  In the busy season, the day can be quite long, but if it is slow season for tourism or poor weather, the work day is several hours shorter.
What are some things trainers really enjoy about their job?
Trainers really thrive on working with and learning from the animals every day.  No two days are the same.  Also, trainers meet guests from all over the world and get to share their animal experiences.
What types of behaviors do trainers teach their animals?
Animal training is important as it mentally and physically stimulates an animal, which not only promotes the animal to contribute to its own health care but also makes it more likely to have the animal exhibit its natural behaviors.  Some categories of behavior are husbandry, exercise, research-related, veterinary care and interactive program behaviors.  Many behaviors allow the animal to just show off what it is physically capable of doing, such as speed, balance, agility or sounds it can make.  Just like when people go to school, learning a variety of behaviors benefits the animal and creates new opportunities in forming the trainer's relationship with the animal.
Do trainers only work with one animal?
No, each trainer needs to work with several animals and each animal works with several trainers.  It is valuable for the trainer to create a solid relationship with the animal to build and maintain behaviors, but also important to learn about the different personalities of the animals.  Like kids with adults, the animals need solid relationships to know what to expect in order to succeed.  Too much variety breaks down that relationship and too little variety creates a situation where an animals does not work with other staff, which could jeopardize their health and diet.  A balance of strong relationships and diverse behaviors in a schedule benefits both the trainer and animal.
Do trainers have a favorite animal?
Yes, most trainers have one animal that tugs on their heart strings the most, whether it be their personality or the behaviors and programs they have created together.
What do most trainers really like about their career?
Most marine mammal trainers adore their animals and respect these amazing creatures.  They recognize that they have to earn the trust and friendship with their animal and, in return, receive a unique, unconditional love that comes from caring for a wild animal. Many trainers enjoy the challenge of training new behaviors and sharing their animal relationship with the public.
What do trainers like least about their jobs?
Cleaning.  Just like having kids, cleaning is a necessity for a healthy animal.  From the kitchen and food containers to the bottom of the pool or top of the deck, a clean environment is the best preventative care to keep animals healthy and safe.  Sea lion poop stinks – literally – but it comes with the job.
Weather.  Even in the Bahamas weather extremes can make a job tough.  In the summer months, the sun can be blazing hot and even the water is not refreshing.  In the winter, cool, moist winds can make it feel a whole lot chillier.  Rain, say no more.  Accepting the responsibility of taking care of the animals does not change based on unfavorable weather.
What is a typical salary in your field?
Salaries for animal care specialists or animal trainers vary significantly by company, state and country.   For example, in The Bahamas the cost of living is high but there are no income taxes so the starting hourly rate of $8-$9 per hour does not compare to U.S. facilities.   A company with a facility in Florida may pay a higher salary for the same position they also have at their facility in Texas because the cost of living in Florida is higher.
When you consider the salary for a position, you should also calculate the value of the benefits that may be included in your package, such as uniforms, meals, transportation, medical benefits, paid vacation and sick leave, etc.   All of these features can add up to thousands of dollars each year.
Salary will also change if you bring credentials to the job that benefit the position directly, such as scuba certification, veterinary experience or a college degree. The best way to see some of the salaries in marine careers is to go to www.marinecareers.net and check out their comparison of positions and locations.
What type of educational background do trainers have at Dolphin Encounters?
Some of our staff come with two or four-year degrees but many start with just a high school diploma.  Regardless of education or job experience, all applicants start as Animal Care Staff and complete coursework in Animal Training, Marine Education & Interpretive Skills, which includes theory and practical exams.   This ensures that each certified trainer is using the same positive methods with the animals and is capable of engaging guests to learn about the animals and inspire conservation.  Experienced trainers move through this process faster as they generally have a solid understanding of many of the concepts and can bring their experience to the classroom and eventually with the animals in programs.
Can anyone apply for a job as an animal trainer in the Bahamas?
No, entry level jobs are reserved for Bahamian nationals.  Experienced or specialized positions for which there are not Bahamians available to fill can be offered by a company to international applicants once the company has proven it needs to search outside the country for a qualified applicant.   The government finalizes the approval for the applicant by issuing a work permit for a specific length in time, such as a few days or a few years.  Companies pay for work permits and reapply for renewal as needed.
Do all facilities have a swim test to enter this occupation?
No, Dolphin Encounters does not conduct a specific swim test but some facilities do.  In most cases, a person's swimming skills will be discussed and evaluated well before becoming a certified trainer as it is essential for the trainer to be confident around the water and capable of diving to inspect the animal's pool as part of their daily duties.
Do you recommend I go to college to become a trainer or animal care specialist?
Like all fields, a marine career with animals is very competitive field and to break into it, many people start with volunteer positions or other positions in a company just to get a foot in the door.  A college education makes you more marketable for available positions in animal care or training but may not necessarily secure a higher salary initially because the degree does not train you to be immediately useful in the day to day skills required of a trainer.  However, many facilities will hire applicants with a college education over those with only a high school diploma so pursuing a higher education opens your opportunities.
Do I need to have a specific degree to work in the marine mammal field?
Marine mammal professionals come with a variety of college degrees: zoology, biology, marine biology, marine science, microbiology, psychology, etc.  The exact degree is not as important as your comprehension of math and science, your problem solving skills and your ability to communicate both in writing and verbally.  Look at the areas your school has available where you can add a marine emphasis in your credit selection towards your degree.
What should I do while in college or after I graduate to advance in a marine career?
Use your time in college to access university-based jobs that give you valuable experiences to add to your resume, such as lab work, field work, or teaching assistance.  Don't avoid getting your hands dirty as your perseverance in each task adds to your resume.  Before or after you graduate, internships provide valuable exposure to the job world and may even give you better perspective of the direction you want your education to take.  At Dolphin Encounters, the Student Internship Program is offered weekly throughout the year with a maximum occupancy of just three spaces.  Local and international applicants can apply to participate up to four weeks.  This program integrates education, animal training & veterinary care to expose interns to all the facets of daily care of marine mammals.
What types of skills should a person acquire to have a solid resume for a marine career with animals?
Any opportunity to gain experience outside of school in public speaking, guest services, educational presentation skills or athletic skills such as swimming and diving are a plus when applying for a position in the training field.   The ability to relocate, even internationally, is also favorable.  It is a field where you need to go where the jobs are which often requires moving.  The skills you should emphasize on your resume should be those that would most benefit the position for which you are applying.
Got more questions? Let us know…