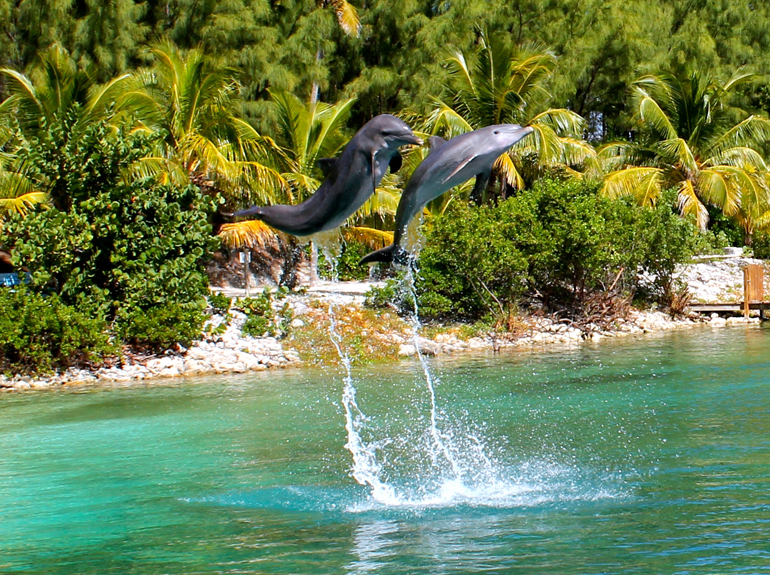 Dolphin Adoption Kits
With our guests passionately inspired to support dolphin research, Dolphin Encounters teamed up with Dolphin Communication Project to create Dolphin Adoption Kits which would fund DCP's efforts to study both animals under human care and those in the wild. On the island, guests can purchase from a selection of gift kits that highlight one of our stars — an Atlantic bottlenose dolphin at Blue Lagoon. So far, guests have raised over $20,000 to support research through the purchase of adoption kits! On-line, guests can pick from a group of wild Atlantic spotted dolphins (Stenella frontalis) that frequent the clear blue waters of Bimini, The Bahamas. Using special underwater video and audio equipment, DCP identified many of the individuals comprising this group, learning much about their structure and social behavior.
By adopting a dolphin, you will be helping to fund this non-profit group's research, education, and conservation efforts that will directly benefit dolphins. DCP Adoption Kits cost just $30 for a full year – that's less than $3 a month! The perfect gift!
What's in your Adoption Kit?
An Official Adoption Certificate
Welcome Letter & Registration Info
Photograph & Biography of Your Adopted Dolphin
DCP Information Booklet & Atlantic Spotted Dolphin Fact Sheet
Download instructions for ringtones of dolphin vocalizations from Bimini Dolphins
DVD containing Video of the Bimini Dolphins
Dolphin Trading Card Sample
Top five reasons to adopt a dolphin from DCP
Receive unique underwater video footage and images of your adopted dolphin
Download an actual recording of one of the Bimini dolphin's vocalizations
Money from the sale of DCP's adoption kits will directly fund research and education efforts that benefit your adopted dolphin
Choose from over 20 wild dolphins from the Bimini pod each with their own unique characteristics, life histories and personality traits
The perfect gift (for yourself or someone else) looking for a fun but meaningful way to improve the lives of dolphin species and the environment
Adopting a wild dolphin with DCP helps to fund:
New research equipment (e.g., cameras, underwater microphones)
Conservation and education programs on the U.S. & around the world
Publication & dissemination of DCP's research results to the scientific community and the public
Maintenance of the DCP website and our podcast – The Dolphin Pod Classroom Youth Program, Dolphin Research Trainee & Classroom Connections
Volunteer, Ecotour & Internship opportunities for the Public
Icons/Links: