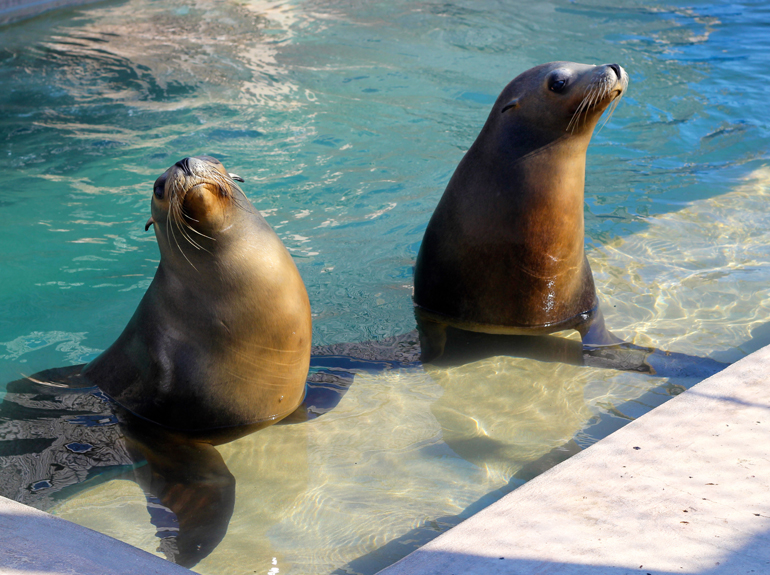 Our Sea Lion Story
After surviving Hurricane Katrina and the massive destruction of their former home at Marine Life Oceanarium in Gulfport, Mississippi in 2005, six California Sea Lions permanently joined the marine mammal family at Dolphin Encounters on Blue Lagoon Island just one year later.
The sea lions arrived by private charter transport from Sea World Orlando where they had been living and generously been taken care of post-Katrina. They were transported by boat from Nassau to Blue Lagoon Island where they were introduced to their new all-natural ocean habitat and joined our Bahamas animal life. "The transport went really well," said Kim Terrell, Marine Mammal Director for Dolphin Encounters for ten years. "I am so happy to report that all six of the animals are comfortable, eating, swimming and relaxing in their new habitat. In fact, to watch their behaviour, you would think they have lived here all their lives." The sea lion exhibit at Dolphin Encounters is one of the largest, natural wet habitats for sea lions under human care in the world and far exceeds all international requirements. Having all been born under human care, the animals had never seen ocean life in their pools and spent weeks familiarizing themselves with their new ocean habitat and trainers. The process was an easier one given the reunion with their former trainer, Kim Terrell. A native Mississippian, Ms. Terrell was the former Director of Training at Marine Life Oceanarium and Marine Animal Productions for fifteen years and a trainer for several of the sea lions with which she is now reunited. Ms. Terrell flew to Orlando and worked with the animals for several weeks prior to their transport to Dolphin Encounters. It was an emotional journey for both the animals and their former trainer who closely followed their progress throughout the storm from Nassau.
"I was completely devastated by what happened in Gulfport, Mississippi – my home – by Hurricane Katrina," said Ms. Terrell. "My family, friends and animals I knew and loved were affected. I had raised, worked with and certainly knew most of the dolphins and sea lions, and it was terrible watching what was happening and talking to the trainers during and after the storm. If the animals were not going to be able to live in their old home, then I wanted to be sure that some of them would find homes with me and our team at Dolphin Encounters. I am so happy that they are now with us on Blue Lagoon Island."
Mr. Donald J. Jacobs, majority owner of Marine Animal Productions at Marine Life Oceanarium, could not have been happier at the outcome for these animals after their home was destroyed in Mississippi. "It was a joy to witness her love, care and rapport with all of the dolphins and sea lions at our facility. It warms our heart that some of the Katrina sea lions will be back together with someone as wonderful as Kim. I am confident that the animals will feel the love that she has for them. The Meister family has demonstrated admirable consideration for me and I am sure that they will provide the best possible care to the sea lions in their new home."
The Managing Director of Dolphin Encounters, Robert Meister, was very proud to welcome the sea lions to the marine mammal park on Blue Lagoon. "The sea lions have been through quite an ordeal and will be greatly missed by their previous owners, trainers and caregivers. We take the responsibility of their care extremely seriously, as we do the care of our dolphin family. The animals are a symbol of a community that survived a catastrophic storm. It is our goal to provide them with a rewarding and enriching life – and it is our honour and privilege to do so." "Indescribable is the only way I can say I feel about having these animals back in my life once again," continues Kim Terrell. "I am so happy that I, who was there at the beginning of some of their lives, and our company Dolphin Encounters, are able to provide the animals with a wonderful home. I am also so proud to know that the sea lions will receive the same excellent care that all of our dolphin family receives. It is also a wonderful opportunity for Bahamians to learn about and meet another marine mammal species."
Like their dolphin friends on Blue Lagoon Island, some of the sea lions are also movie stars. With starring roles in the kid-friendly films "Slappy & The Stinkers" and "Andre", the animals were well-prepared for a new spotlight in front of the camera, meeting our guests up-close and personal in the sea lion encounter and sharing their incredible pinniped personalities.
In the years since the animals arrived, the sea lion habitat has been renovated to meet the needs of our expanding sea lion family. The extensive dry area has multiple pools and deck space for a variety of behavioral training and seconds as a maternity area for newly born pups and their mothers. The wet habitat includes a spacious pool with areas up to 25 feet deep, shallow-water encounter interaction areas, dock space for meeting dry guests and a show stage for performances that can be observed by up to 60 students from the Sea Lab Deck. The first successful pup to be born in the Bahamas – Milo – has grown to be a handsome, young adult male and fathered several pups who are already are immersed in their own training for guest programs. Many of the sea lions have completed training to voluntarily partake in unique research projects as well as public demonstrations for groups of school children, inspiring thousands of kids for marine conservation in a very personal sea dog way. No doubt: this is one sea lion rescue story with a happy ending.