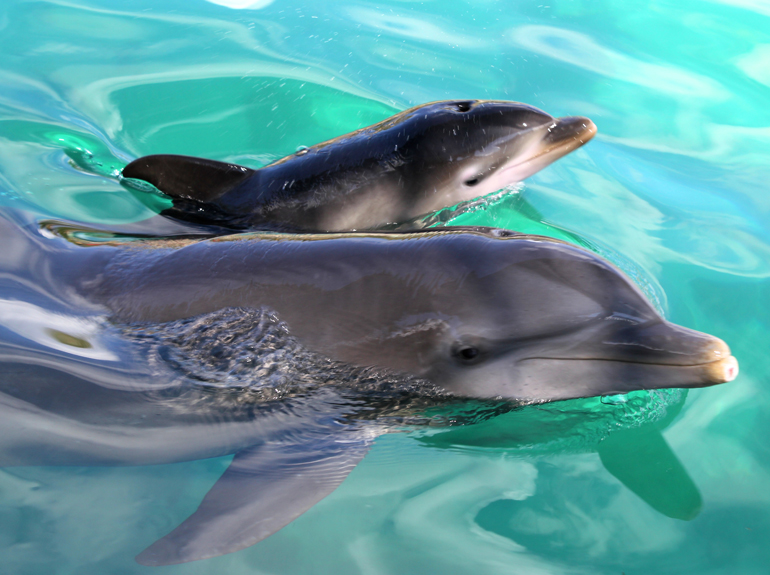 Wild Dolphin Project
The Wild Dolphin Project (WDP), founded by Dr. Denise Herzing in 1985, is engaged in an ambitious, long-term scientific study of a specific pod of Atlantic spotted dolphins that live 40 miles off the coast of the Bahamas, in the Atlantic Ocean. For about 100 days each year, Phase I research has involved the photographing, videotaping, and audio taping of a group of resident dolphins, aiming to learn about their lives.
The rest of the year is spent in the laboratory in Jupiter, Florida, archiving the information that has been gathered during the field season. WDP has now accumulated unprecedented amounts of baseline data about these dolphins, their relationships with other dolphins, and their daily lives in the ocean. In addition, WDP has grown up with, and intimately knows, many of the individuals.
The Wild Dolphin Project Book
At Dolphin Encounters, we direct our guests to invest in scientific literature and resources that support on-going marine mammal research. Over the years, guests have purchased hundreds of copies the custom Wild Dolphin Project Book with 100% of the proceeds going to support their valuable work studying spotted dolphins in the wild.
Witness the beautiful photographs of the Wild Dolphin Project and have the story of the dolphins unfold before your very eyes. This amazing book is a priceless addition to any book collection for aspiring marine biologists and for those who consider the ocean and its inhabitants precious.