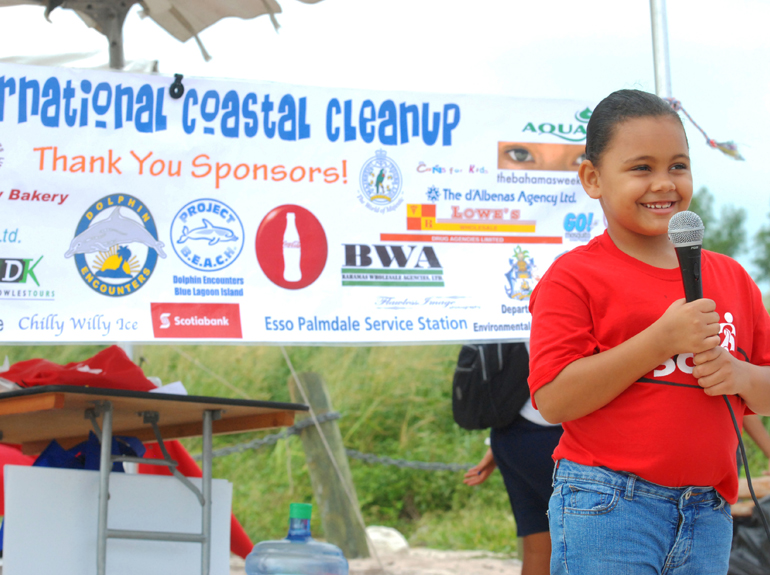 Our Marine Conservation
In a country of 700 islands, marine conservation is always a hot topic of conversation with the livelihood of a nation dependent on a healthy ocean. Many years ago, Dolphin Encounters began its initiatives to practice conservation with the materials and activities from The Ocean Conservancy.
The International Coastal Cleanup (ICC) became our template for a free student program – The Beach Buddies – which is offered all-year round to children's groups. Even in the face of overwhelming environmental problems, beach clean-ups demonstrated that kids were not powerless in the fight to stop marine debris. Marine debris is caused by people and can be stopped by people. A beach lined with volunteers armed with trash bags and eager to clean up is a positive, hopeful sight.
In 2005 Dolphin Encounters was honored to be selected as one of the National Coordinators for the annual International Coastal Cleanup Day in The Bahamas. Since then, we have organized thousands of children and adults to gather on littered beaches, collect trash and data, and leave those pristine places for Bahamians and tourists to safely enjoy.
Their green actions have prevented thousands of marine animals – seabirds, whales, dolphins, sea turtles, and fish- from ingesting or entangling themselves in deadly marine debris. To learn more about ways to practice marine conservation, check out these links